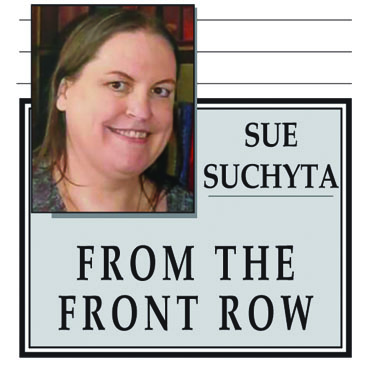 Start off the new year with two theatrical treats: Trenton's Open Book Theatre Company production of "Nollywood Dreams" and "Sherlock Holmes: The Adventure of the Duplicate Detectives," directed by Dearborn Heights actor Michael Micheletti, who also plays one of the title roles, at the Motor City Youth Theatre playhouse, 27555 Grantland St. in Livonia. 
'NOLLYWOOD DREAMS' AT TRENTON'S OPEN BOOK THEATRE COMPANY
Nollywood, the name for the Nigerian film industry, based in Lagos, Nigeria, is the location for Jocelyn Bion's "Nollywood Dreams," which is set in the 1990s, when an explosion of films was being produced. By the early 2000s, Nollywood would become second highest producing film industry, second only to Bollywood in Bombay and ahead of Hollywood in Los Angeles.
When aspiring film actress Ayamma lands an audition with Gbenga Ezie, Nigeria's hottest rising film director, tension flares between her and sexy film star Fayola and hot rising star Wale.  
The show, directed by K. Edmonds, features Ashley Lyle as Ayamma Okafor, an aspiring Nigerian film actress; Krystal Dellihue as Dede Okafor, her sister; Sealoyd Jones III as Gbenga Ezie, a rising Nigerian film director; Nate John Mark as Wale Owusu, a rising male film star; Bre Jackson as Fayola Ogunleye, a popular leading lady; and LaLa Harrison as Adenikeh, the Nigerian version of Oprah Winfrey.
Lyle said the show is about reaching for one's dreams despite the obstacles or other's dismissive opinions. 
"Ayamma and I are similar – we're both very dedicated to the dreams we have and willing to do what we can to accomplish them," she said. "We also know the sacrifices we need to make to obtain them."
Lyle said rehearsals have been fun, and the show is packed with humor. 
She said she also appreciates being able to work with actors with whom she can culturally relate. 
"It's a Black story told without racial bias or pain," Lyle said. "And it tells a story about dreams, love, heartache and support."
She said it is also important for a plus-size Black woman to get the job of her dreams as well as being the love interest. 
"In the world of theatre, the plus-sized character is usually the 'toss-away' character or punching bag," Lyle said. "Under Edmonds' direction, that perspective has changed."
Mark said the show is about finding one's happiness and living truthfully in it. 
"If I could put the feeling of this show into a word, it would be 'joy,'" he said. "The biggest challenge has been not laughing through our entire rehearsal process."
He encourages audiences to attend the show to share the experience. 
"I think it is important to laugh and experience joy, art and love," he said. 
Jackson said that while the show has been fun to rehearse and there are many funny moments throughout the play, the central theme focuses on having a dream and what one must do to achieve it. 
"There is no one path a person is supposed to take to get what they have always wanted," she said. "It isn't checking all the boxes or being perfect – it's about truly believing that you deserve to have it and then going to get it, no matter who you are."
Jackson said it is exciting to play Fayola, the type of character whom she has always seen as her competition for roles. 
"I get to bring her character to life and show that while she may be fabulous, she's human, too," she said. 
Jackson said that some people find their goals changing, while others may take the easy way out when the going gets tough. 
"There will be those who go for a dream, never knowing just how far their talent, perseverance and heart is going to take them," she said. "It may sound cliché, but it's Nollywood."
Dellihue said the show also conveys that it is never too late to follow one's dreams. 
"If you are truly passionate about something, believe in yourself and do the work, and it will happen," she said. "It may not happen when you want or when the world says it should, but it will happen."  
Dellihue said learning the dialect and accent has been challenging.
"I was hard on myself in the beginning if I didn't get a vowel pronunciation right," she said. "This was my first time at learning lines with an accent, and it's easy to drop the accent when your character gets excited about something." 
Dellihue said the play shows Black people in a joyful way, which is important. 
"We can just be ourselves without having to fight or overcome something traumatic," she said. "Not that those plays aren't important. I have been in those plays and I am grateful for those experiences, but I have wanted to get here, my first comedy, for a long time."
Dellihue is pleased "Nollywood Dreams" is being staged locally.
"The world can be a mess, but getting to travel back into 1990s Nigeria for some fun has been a blessing to me and my mental health this season." 
"Nollywood Dreams" runs 8 p.m. Jan. 13, 14, 20, 21, 27, 28 and Feb. 3, 4, 9 to 11; and 2 p.m. Jan. 15, 22 and 29 and Feb. 5 and 12 at the theater, 1621 West Road in Trenton. 
Tickets are $35 for opening night, with $30 general admission for all other performances, $25 senior tickets and $15 student tickets. 
For more information, go to openbooktc.com. 
DEARBORN HEIGHTS MAN DIRECTS, STARS IN 'SHERLOCK HOLMES: THE ADVENTURE OF THE DUPLICATE DETECTIVES'
Dearborn Heights actor Michael Micheletti directs and perform one of the title roles in "Sherlock Holmes: The Adventure of the Duplicate Detectives," a show performed by adults at the Motor City Youth Theatre playhouse, 27555 Grantland St. in Livonia. 
The cast includes Micheletti as Sherlock Holmes, Zoe McComas of Westland as the assistant director and the other Sherlock Holmes, Tim Majik of Detroit as John Watson, Brie Vanhollebeke of Redford Township as Jane Watson and Juliana Rickle of Livonia as Mary Watson. 
Titus Eichelberger plays Hercule Poirot, with Leslie Jurate Rzeznik as Felicity Lemon, Erin Phipps as Evelyn Foucault, Santi Ramirez/Larry Barker as the Conductor, Michael Cuba as the Prince and Will Robinson as a thug. 
In addition to directing and acting in the show, Micheletti said he found time to write, costume and build the set. 
"I try not to wear so many hats, but the opportunity to do the show presented an interesting challenge," he said. "I saw Zoe perform Shirley Holmes in 'A Lighter Shade of Noir' and was blown away by how perfect her version of Holmes was in the show, and I wanted to share the stage with her where we were both Holmes." 
Micheletti said he has played Holmes onstage in the past, and worked with Majik, Rickle and Cuba in an earlier Sherlock show and wanted to work with them again. 
He said other cast members have brought their backstage talents to the production as well, from Rickle's script editing, Majik's support, Cuba's talent for building prop and set pieces, Rzeznik's costuming skill and Vanhollebeke's willingness to volunteer. 
Micheletti said he hopes the show gives audiences a better understanding of Sherlock Holmes, as well as the man and the woman behind the legend. 
"It's a show about change and adapting to a scary new world, something we have all been dealing with," he said. "I want audiences to leave feeling hopeful." 
McComas said the show is a witty, suspenseful and humorous take on the timeless detectives with a fresh plot, guaranteed to entertain and enthrall. 
"It's always a joy to play such a quick-witted character," she said. "As an actress, it's rare to get to play this kind of calculating, erratic and sympathetic character who is not an object of affection."
McComas said Sherlock has a strong, enigmatic presence. 
"It's the unpredictable nature of their intellect that is still captivating audiences today," she said. "I hope we convey to the audience an exciting show through which they can feel the sincerity and enthusiasm with which we play these beloved characters."
Majik said people can relate to John Watson because he helps unfold Sherlock's mysteries, and he is grounded and loyal. 
"Whenever I perform John, I do my best to do a sort of time travel, going back to the Victorian era, changing my speak pattern, my demeanor and even my walk," he said. 
Majik said audiences get three detectives instead of one in this Sherlock Holmes show. 
"I enjoy our wonderful ensemble of talent, and I really couldn't ask for a better cast," he said. "I love a good multi-verse sci-fi story, and it is made even better by bringing Sherlock Holmes into it.
"Audiences walk away seeing some of their favorite characters from literature come to life and embark on a brand-new adventure."
Vanhollebeke said her character, Jane Watson, is an assertive woman of courage and action. 
"She does not sit idly by, and she and Sherlock Holmes really do balance each other out," she said. "Where Holmes is driven by facts and possesses analytical intelligence, Watson possesses emotional intelligence and is driven by compassion for others."
Vanhollebeke said she has enjoyed developing an English accent and developing her character's posture and poise. 
"There are many twists and turns, and it's a comedy, there's action and it's suspenseful," she said. "I grew up with Nancy Drew and Sherlock Holmes, so I am enjoying every moment of this show, and I hope the audience will enjoy it as well."
The show runs at 8 p.m. Jan. 6, 7, 13 and 14; 2 p.m. Jan. 8 and 7 p.m. Jan. 15 at the theater, 27555 Grantland in Livonia. 
Tickets are $15 and are available at the door with cash, or online via Venmo, at Triple-M-Productions, or via Paypal at [email protected].