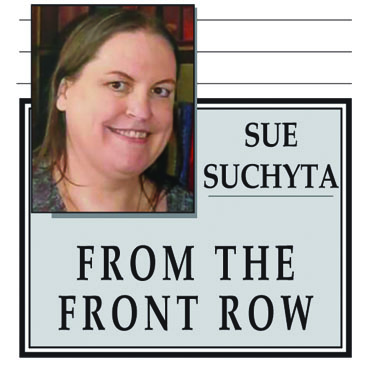 Whether you seek a playful, family-friendly musical or a thought-provoking show, local stages offer many opportunities get out the cold and escape into the warm embrace of the theatre on local stages. 
DYPAC PRESENTS THE MUSICAL, 'MISS NELSON IS MISSING'
The Downriver Youth Performing Arts Center presents "Miss Nelson is Missing – the Musical" at 7 p.m. Jan. 20 and 21 and 2 p.m. Jan. 22 at the Trenton Village Theater, 2447 W. Jefferson Ave. in Trenton. 
Miss Nelson is a nice teacher, but she can't control her students, who are out-of-control and send spitballs and paper airplanes flying. However, when Miss Nelson goes missing and is replaced by a no-nonsense substitute who assigns lots of homework, the students learn about appreciation and respect as they launch a search for their missing teacher. 
The 30-minute musical, designed for young performers, is directed and choreographed by Nathan Vasquez, with musical direction by Jaimie Krause and produced by Cindy Robertson, with youth assistant directors Samantha Plunkett and Parker Watson. 
The cast includes Alainna Sworst as Miss Nelson and Viola Swamp, Samantha Heady as Mrs. Blandsworth and Max and Will Pratt as detectives.
Those playing students include Nicholas Bond, Sofia Castrillon-Ibarra, Genevieve Dassow, Rylie Evans, Sofia Ferguson, Marie Gill, Charlotte Hayes, Lucie Hurst, Kaylee Johnson, Jenna King, Ellie Knapp, Evan Langlet, Piper Lucas, Rex Lustig, Hannah Messer, Nadia Pers, Brady Pippin, Benjamin Raftery, Karsyn Smith, Kate Willmuth and Aurora Zmijewski.
Those playing janitors are Kash Crabb as Johnny, Andie Evans as Penny, Riley Frank as Murray, Robert Frank as Pop and John Hurst as Bud. 
Director Vasquez said audiences will be impressed by the cast members. 
"It is a perfect musical to showcase a large group of young performers all on stage at once, as students in Miss Nelson's class," he said. "I think audiences are going to really enjoy the clever and creative way we brought this musical to life."
Vasquez said the colorful costumes and wacky props also make the show an ideal way to introduce young children to theater for the first time. 
Sworst, in the lead role, said the most challenging part of her character was switching her onstage personality from Miss Nelson to Viola Swamp. 
She said she hopes audiences enjoy the effort the cast put into learning the song and dance numbers.  
Castrillon-Ibarra said that while singing, acting and dancing are fun for her, memorizing her lines is the most challenging part of being in a show.
She said her character is a student who is really bad at math. 
"The show is funny," Castrillon-Ibarra said. "Working hard as a team is what I love."
She said she encourages friends and family to support DYPAC and local talent. 
"We are all doing our best to make the show perfect," Castrillon-Ibarra said. 
Cast member Bond said he has a lot of fun working with the stage props. 
"I really like the big prop scissors," he said. 
Bond said it is a fun show. 
"The kids misbehave, but then learn it's better to be good," he said. 
Langlet said the most challenging part of playing one of the wild students was showing, through their acting, how much they change during the course of the story. 
"It is an interesting show with a surprise catch at the end you won't want to miss," he said. "I hope it makes them happy." 
Langlet said the show's songs are great and catchy. 
"This play is a lot of fun, and I can't wait for opening night," he said. 
Johnson agreed that the show is fun to rehearse and fun for audiences. 
"I love singing and dancing," she said. "It is a beautiful theater and they will enjoy seeing a live show." 
Tickets are $10 for preferred seating, with other seats $8 for general admission and $7 for seniors, students and seniors. To order online, go to dypac.com.
HFC PRESENTS THE MICHIGAN DEBUT OF '5 AM PANCAKES' AND 'TENDERLY'
Henry Ford College presents the Michigan debut of two one-act plays, Alexa Juanita Jordan's "5 a.m. Pancakes" and Ida Esmaeili's "Tenderly" at 2 p.m. Jan. 21, 22, 28 and 29 and 5 p.m. Jan. 28 in the studio theater, room 161 in the MacKenzie Fine Arts Center, 5101 Evergreen Road in Dearborn. 
"5 a.m. Pancakes" is a play about friendship and one's responsibilities to those who predecease one, and focuses on the grief, love and compassion people provide for themselves and others. 
Directed by Christopher Bremer, it features Brittany Battle, Shardai Duckett and Zuri Jamal. 
"Tenderly" looks at a seemingly Hallmark-perfect romance between two students who are suddenly faced with the harsh reality of immigration law, visa policies and U.S.-Iran tensions. 
Directed by John Michael Sefel, it features Safa Alamiri and Dylan Buzimkic. 
Due to strong languages and themes related to death, the show is not recommended for those under 16 years old.
To order tickets, go to showtix4u.com/event-details/69972. 
DETROIT REP PRESENTS MICHIGAN PROFESSIONAL PREMIERE OF AUGUST WILSON'S 'GEM OF THE OCEAN'
August Wilson's "Gem of the Ocean" makes its Michigan professional premiere Jan. 13 through March 5 at the Detroit Repertory Theater, 13103 Woodrow Wilson St. in Detroit.
Set in 1904 Pittsburgh amid rising racial tensions, it is chronologically the first installment of a decade-by-decade, 10-play chronicle, "The Pittsburgh Cycle," which explores the 20th century African-American experience. 
"Gem of the Ocean" was nominated for five 2005 Tony Awards, including Best Play. 
Aunt Ester, a fiery 285-year-old matriarch, former slave and a "soul cleanser" welcomes an eclectic collection of characters into her home and on a journey of spiritual awakening to the City of Bones. 
Directed by John Sloan III, the cast includes Domonique Byrd, Hugh M. Duneghy II, Dan Johnson, jon kent, B. J. Love, Madelyn Porter and David W. Skillman. 
Showtimes are 8:30 p.m. Jan. 13, 14, 20, 21, 27 and 28; Feb. 3, 4, 10, 11, 17, 18, 24 and 25, and March 3 and 4; 3 p.m. Jan. 14, 21 and 28, Feb. 4, 11, 18 and 25, and March 4; and 2 p.m. Jan. 15, 22 and 29, Feb. 5, 12, 19 and 26 and March 5 at the theater. 
Tickets purchased online and at the box office two or more days before the performance are $25, with $30 admission on performance days. For more information or to purchase tickets, go to DetroitRepTheatre.com.