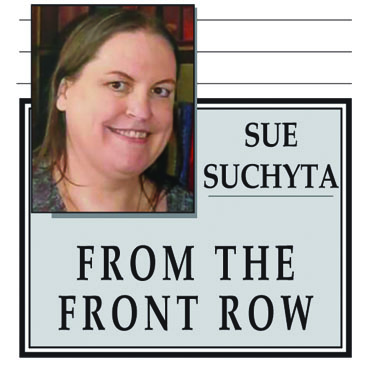 Trenton's Open Book Theatre continues 'Nollywood Dreams;' Fisher adds "Funny Girl" to upcoming season
Love stories are a favorite staple of the stage, whether it's the Fisher's newly announced final show for its upcoming subscription series, "Funny Girl," or Trenton-based Open Book Theatre Company's latest story of a young girl's dreams of making in the movie business, who finds sparks flying with the leading man during auditions.
OBTC'S 'NOLLYWOOD DREAMS' OFFERS A FEEL-GOOD UNDERDOG STORY
Set in Nigeria's Hollywood-like film industry, known as "Nollywood," Jocelyn Bioh's "Nollywood Dreams," set in the 1990s, is the story of a travel agent in Lagos, Nigeria, who dreams of becoming a star when a highly successful director, Gbenga Ezie, offers open auditions for a movie featuring Nigeria's hottest male heartthrob, Wale Owusu.
When Ayamma, the aspiring star, appears to have chemistry with Wale, the sexy male lead of "The Comfort Zone," she makes Fayola, an established star who is helping to bankroll the movie, angry and jealous.
Add to the mix Adenikeh, the Nigerian version of Oprah Winfrey, and Ayamma's supportive if starstruck sister Dede, and you have a fast-paced, fun-filled show.
While this is OBTC's first show with an all-Black cast, the play's appeal is universal: It's a story about a young woman dreaming of acting in the movies, who works hard for her first audition and who feels the sparks fly with her potential leading man.
Director K. Edmonds has taken a strong cast and created a fast-paced, enjoyable show where an underdog goes after her dreams, a story to which anyone can relate.
Ashley M. Lyle is enthusiastic and spirited as Ayamma, who dreams of acting in the movies, and her scenes with her sister Dede, played by spirited Krystal Delihue, are fun and relatable.
LaLa Harrison as Adenikeh, is an audience favor, and the house has fun following the cue cards to clap and respond with oohs and aahs.
Sealoyd Jones III as the film director Gbenga Ezie, who is struggling to finance the film and please the established female star who is investing in the film, is a likable, high-energy creative force who has fun with the audition scenes.
Bre Jackson sizzles as star Fayola, the established leading lady with the money to make or break the film. Her jealousy of Ayamma is palpable, and has anyone who has ever suffered under a mean girl rooting for the newcomer with stars in her eyes.
Nate John Mark as Wale, the heartthrob star, is entertaining in his talk show scenes with Adenikeh.
"Nollywood Dreams" is a fun show that Downriver theater aficionados won't want to miss.
Remaining performances are at 8 p.m. Jan. 20, 21, 27 and 28, Feb. 3, 4, 9, 10 and 11; and 2 p.m. Jan. 22 and 29, and Feb. 5 and 12. The theater is at the OBTC theater, 1621 West Road, Trenton.
For more information and to order tickets, go to openbooktc.com.
FISHER THEATER ANNOUNCES 'FUNNY GIRL' AS PART OF ITS 2023-24 SEASON
Broadway in Detroit will bring the musical "Funny Girl" to the Fisher Theater Sept. 26 to Oct. 8 as part of its 2023-24 subscription season.
It is the first U.S. national tour of "Funny Girl," as well as the first professional production of the show, to visit Detroit.
The musical, with a score by Jule Styne, lyrics by Bob Merrill and book by Isobel Lennart, opened on Broadway in 1964 and is based on the life of comedian and Broadway star Fanny Brice and her relationship with entrepreneur and gambler Nicky Arnstein.
Barbra Streisand starred in the original Broadway production, which received eight Tony Award nominations.
The revival, with book by Harvey Fierstein, opened on Broadway on April 24, 2022, with Beanie Feldstein in the lead role, which was taken over by Lea Michele in September. The cast for the touring company has not yet been announced.
The story is set in New York City prior to and after World War I. It tells the story of Fannie Brice of the Zeigfield Follies in flashback form.
The songs include favorites "I'm the Greatest Star," "People," "You Are Woman" and "Don't Rain on My Parade."
For more information about the Broadway in Detroit 2023-24 season, call the box office at 313-872-1000, Ext. 0, or go to BroadwayInDetroit.com/season.