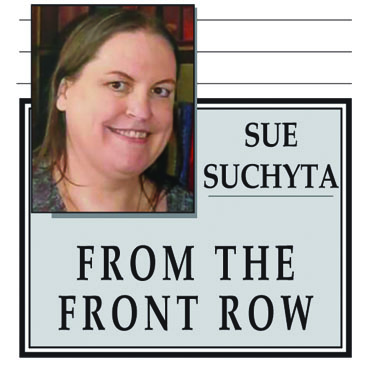 Whether you seek a professional Broadway tour or the emerging talents of local high school thespians, talent abounds on area stages to get one's mind off the winter weather.
'BEETLEJUICE – THE MUSICAL' TO HAUNT THE OPERA HOUSE STAGE
Based on the Tim Burton movie, "Beetlejuice – The Musical," an edgy and irreverent Broadway musical comedy, will haunt the stage of the Detroit Opera House beginning Jan. 31 for a two-week run.
The story focuses on Lydia, a teen girl whose mother recently died, who feels invisible to her father and who is obsessed with death. She and her father move into a house haunted by Adam and Barbara Maitland, a young couple who were accidentally killed in the house. Add Beetlejuice, a demon who is typically only visible to dead people, into the mix, and one has an interesting plot ready to unfold.
Beetlejuice tries to teach the ghosts, Adam and Barbara, into haunting their former house, so they can help him to get a human to say his name aloud three times, which will make him visible to the living.
In addition to "Day-O, the Banana Boat song" and "Jump in the Line," familiar to fans of the movie, the songs have intriguing titles like "The Whole 'Being Dead' Thing," "Ready, Set, Not Yet," "Fright of Their Lives," "Say My Name" and "What I Know Now."
"Beetlejuice – the Musical" opened on Broadway April 25, 2019, and ran until March 12, 2020, when the pandemic shut all shows down. It reopened April 8, 2022 and ran through Jan. 8 on Broadway.
For more information about the show, go to BeetlejuiceBroadway.com or go to BroadwayinDetroit.com.
Performances are at 8 p.m. Jan. 31 and Feb. 1 to 4 and 7 to 11; 7:30 p.m. Feb. 5 and 12; and 2 p.m. Feb. 4, 5, 11 and 12 at the Detroit Opera House, 1526 Broadway in Detroit.
Tickets start at $29 and are available by calling 800-982-2787, online at ticketmaster.com and at the Fisher Theater box office.
MIFA REGIONAL THEATRE FESTIVAL TO SHOWCASE THESPIANS FROM TRENTON, GROSSE ILE AND WOODHAVEN HIGH SCHOOLS
The Michigan Interscholastic Forensics Association Regional Theatre Festival scheduled Feb. 4 at Woodhaven High School will feature the talents of thespians from Trenton, Grosse Ile and Woodhaven high schools.
Also performing will be students from Olivet High School, Lincoln High School in Ypsilanti, Avondale High School in Auburn Hills, Bloomfield Hills High School and Detroit Country Day School in Beverly Hills.
The regional festival is the second level in the annual theatre one-act competition sponsored by MIFA, with participant productions adjudicated by a three-judge panel. Performances start at 9:30 a.m., with the last performance beginning at 4 p.m. Feb. 4 in the Woodhaven main auditorium and its black box theater.
Admission is free, and the public is welcome to attend. Woodhaven High School is at 24787 Van Horn Road in Brownstown Township.
Groups that qualify for the state competition may attend the Feb. 17 and 18 event at Central Michigan University in Mount Pleasant.
Trenton High School will perform "The 39 Steps: Even More Abridged," a 40-minute version of the whodunit set in the 1930s, mixing comedy with suspense that is part Hitchcock story with a spy angle and Monty Pythonesque humor. It includes an onstage plane crash, handcuffs, missing fingers and an old-fashioned romance.
Woodhaven High School will present "26 Pebbles," a heartbreaking and riveting docudrama, similar to "The Laramie Project," about the killing of 26 people – 20 children and six staff members – on Dec. 14, 2012, at Sandy Hook Elementary School in Newtown, Conn., by 20-year-old Adam Lanza. Based on actual interviews with Newtown community members, the play explores gun violence and its impact on a small town rocked by the senseless killing spree.
Grosse Ile High School will stage "The One-Act Play That Goes Wrong," a play within a play in which an amateur theatre group undergoes a series of unfortunate and hysterically funny misadventures.
During the MIFA regional festival, Woodhaven High School will perform on the main stage at 10:50 a.m., with Grosse Ille High School performing at 10:50 a.m. and Trenton High School performing at 12:15 p.m. in the black box theater space.
There are three other performances outside of the MIFA regional festival.
The first is on Feb. 2 at Grosse Ile High School, 7800 Grays Drive, with a 6 p.m. performance by Trenton High School and a 7 p.m. performance by Grosse Ile High school.
The second is on Feb. 8 at Trenton High School, 2601 Charlton Drive, with a 7 p.m. performance by Grosse Ile High School and an 8 p.m. performance by Trenton High School.
The third is on Feb. 9 at Woodhaven High School, with a 6 p.m. performance by Grosse Ile High School, a 7 p.m. performance by Woodhaven High School and an 8 p.m. performance by Trenton High School.