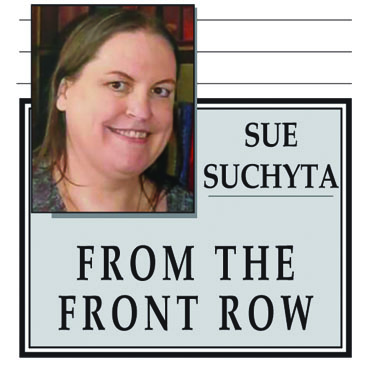 The Theatre Company of Detroit Mercy presents Jane Austen's classic love story, "Pride and Prejudice," adapted for the stage by Kate Hamill, Feb. 10 to 26 at the Marlene Boll Theatre at the Boll Family YMCA, 1401 Broadway in Detroit.
The love story focuses on Elizabeth "Lizzy" Bennet and Mr. Fitzwilliam Darcy, who must learn to overcome their biases – their "pride and prejudice" – to accept the goodness in each other.
Director and choreographer Sarah Hawkins Rusk of Livonia said the show was selected for its excellent story as well as the challenges and educational benefits it presents to the students in the company.
"'Pride and Prejudice' is a classic love story, and this adaptation is a comedy, which is always a genre it is good to practice, and the cast is using a British accent," she said.
Rusk said when she read "Pride and Prejudice" in high school, she fell in love with Jane Austen.
"I love the complexity of the character of Lizzy Bennet, and how she navigates love and family with authenticity, eventual humility and good spirits," she said. "When the opportunity came to direct this story, I jumped on it. I feel honored to get to bring this story to life."
Rusk said many of the actors play multiple roles, so fitting all the pieces together has been a challenge.
"This is truly an ensemble show," she said. "Because of its comedic and romantic nature, the student and professional actors must really trust and rely on each other to be engaged and help each other out, and it has been fun to watch the cast form friendships and support one another through the process."
Katherine Mutschler of Royal Oak, who plays Elizabeth Bennet, said the story is about more than just romantic love.
"It's a story about the love between sisters, families and best friends, and it speaks to the truth of our relationships in a way that we can all relate to," she said. "Viewing our production will remind audiences of the joy that can be found in our everyday relationships and interactions."
Mutschler said it is daunting to play a popular role that has been depicted by many professional actresses.
"Lizzy is a beloved heroine and it can feel impossible to live up to the standards of Jane Austin fans and even my own expectations," she said. "Instead, I'm working on letting those pieces of media inspire me. I want to make people feel the way these pieces of art make me feel."
Mutschler said it is rewarding when you finally get into the moment with the character's circumstances and emotion.
"It is moments like those that transform acting into a genuinely fun and rewarding experience," she said. "I also have really enjoyed getting to waltz – it's a Disney Princess dream come true."
Mutschler said the show reveals the importance of love.
"Lizzy encounters love and marriage in many different forms, and she knows if you aren't brave enough to stand up for your happiness and your future, the consequences can be devastating," she said. "The play raises the stakes of love and forces us to question how we fight for the things we want in our own lives."
Gavin Rapuzzi of Chesterfield Township, who plays Mr. Fitzwilliam Darcy, said "Pride and Prejudice," in addition to being a great love story, is a great story in general.
"The dynamics of the characters is truly spectacular and this show really puts that into perspective," she said. "It's funny, it's thrilling, it's romantic."
Rapuzzi said Darcy is a complex and unique character.
"He has to put on a façade of perfection in front of the general populous but also has to express feelings of love, which he has great difficulty doing," he said. "Being able to explore a character with so many different parts to him has been a challenge, but I have loved every moment of it."
Rapuzzi said the message of the story is that people shouldn't be so quick to judge others, which he said resonates with modern audiences.
"We have such amazing actors telling such an enchanting tale," he said. "You're going to laugh and you may cry, but it's going to be a fantastic adventure."
Andrew Papa of Farmington, who plays Miss Bingley and Mr. Collins, said UDM's production of "Pride and Prejudice" is not a typical period piece, but brings new life to the story while remaining true to it.
"It's boisterous and fun, dynamic and dramatic, and passionate and engaging, but most of all it is very funny," he said. "This adaptation does the story and characters justice while modifying it for 21st century audiences."
Papa said he plays two villains, and enjoyed developing the characters and understanding what made them that way.
"I hope audiences gain a new appreciation for Jane Austen, whose work is so often read in academic settings," he said. "I think audiences are going to be surprised at just how accessible her work really is, because the language is unparalleled and the relationship between Darcy and Elizabeth is complex and beautiful."
Papa said Austen has a knack for finding the universal in the particular.
"This adaptation brings out the best of Austen's original work," he said. "I think audiences will be moved by many parts of the play and amazed at the talent of our students."
Show times are 7:30 p.m. Feb. 10, 11, 17, 18, 24 and 25, with 3 p.m. Feb. 12, 19 and 26 matinees.
There is an opening night reception following the Feb. 10 performance, and a post-show discussion of Jane Austen's feminist legacy on Feb. 12, led by Mary-Catherine Harrison, Detroit Mercy English Department chair and an associate professor of English literature.
A discussion on the secret language of hand-held fans will follow the Feb. 25 performance, led by costume historian Katherine Stefl.
Tickets are $25 for general admission, $18 for seniors, Detroit Mercy faculty and staff, and $10 for veterans and students with valid identification.
Detroit residents qualify for $10 admission Feb. 17, with discounted tickets Feb. 18 for residents of the University District. High school students will be admitted free Feb. 24, but must call the ticket box office to reserve a seat.
To order tickets, call the box office at 313-993-3270 or order online, at DetroitMercyArts.com.