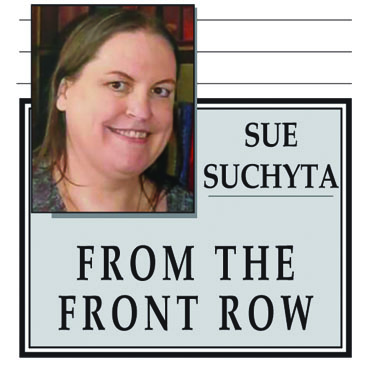 The Tony Award-winning musical "Chicago" will bring its razzle dazzle to Detroit March 28 to April 2 as the Bob Fosse and Fred Ebb musical lights up the stage of the Fisher Theater.
Set in the city of Chicago during the Roaring Twenties, the show slips into a satirical spin as it takes on the concept of celebrity criminals, as well as criminal justice system corruption.
Roxie Hart, the bored housewife of a mechanic, is having an affair with the man who sold them their furniture, but when he tries to break off their affair, she gets angry and fatally shoots him. She initially tries to get her husband, Amos, to take the blame for a burglary gone wrong, but when Amos recognizes the decedent, he changes his tune, and Roxie confesses to and is arrested for the murder.
In the Cook County Jail, Roxie meets other women accused of murder, which they explain during the "Cell Block Tango." She meets the matron, Mother Morton, who is generous when given the right incentive, and Velma Kelly, a vaudevillian who killed her lover and sister when she caught them in a compromising position.
Enter Billy Flynn, a slick lawyer, who smooth talks his way for his clients and who has a reputation for getting them off without worrying about sticking to the truth.
Roxie then fakes being pregnant to gain public and judicial sympathy. However, when a Hungarian-speaking murderess is found guilty and executed, she and the others are served a frightening wake-up call, and their egos are quickly deflated.
The trial is a show in itself, Roxie's fame is short lived, and she and Velma decide to team up, for better or worse.
The show has many memorable songs, including, "All That Jazz," "Funny Honey," "When You're Good to Mama," "All I Care About (is Love)," "Roxie," "My Own Best Friend," "Me and My Baby," "Mr. Cellophane," "Razzle Dazzle" and "Class."
The original 1976 production was nominated for 11 Tonys, including Best Musical, Best Score and Best Choreography, losing in the those three categories to "A Chorus Line."
However, two decades later, in 1997, it won six Tonys, including Best Revival of a Musical and Best Choreography, and was nominated in three other categories.
In 1998 "Chicago" won a Grammy for Best Musical Show Album, for which, in 1976, it was nominated.
The original production ran on Broadway for two years, while the 1996 revival holds the record as the longest-running musical revival and the longest running American musical in Broadway history. It is the second longest-running show to run on Broadway, second only to "The Phantom of the Opera." In 2014, "Chicago" surpassed "Cats."
A film version of "Chicago" in 2002 won an Academy Award for "Best Picture."
Fosse agreed to choreograph "Chicago" as a favor to his wife, Gwen Verdon, who originated the role of Roxie Hart on Broadway. While the show was her last starring Broadway role, she lived to see the 1996 revival, which starred Fosse's other longtime love interest, Ann Reinking, as Roxie. Reinking also choreographed the revival in the iconic Fosse style.
Playing opposite Gwen Verdon's Roxie in the original was Chita Rivera as Velma Kelly and Jerry Orbach as Billy Flynn.
Verdon and Rivera took to the stage at the 1984 Tonys as Roxie and Velma, with Rivera singing "All That Jazz" and Verdon joining her for "Nowadays."
On Broadway, 46 actresses have played Roxie, including Christie Brinkley, Melanie Griffith, Marilu Henner, Bebe Neuwirth, Brooke Shields and Rita Wison.
Neuwirth was the original Velma in the Broadway revival.
The Broadway tour coming to the Fisher stars Katie Frieden as Roxie Hart and Logan Floyd as Velma Kelly.
Showtimes are 8 p.m. March 28 to 31 and April 1 and 7:30 p.m. April 2, with 2 p.m. April 1 and 2 matinees.
Tickets start at $30 and are available online at BroadwayInDetroit.com, Ticketmaster.com, by calling 800-982-2787 or at the Fisher Theater box office, 3011 W. Grand Blvd. in Detroit.