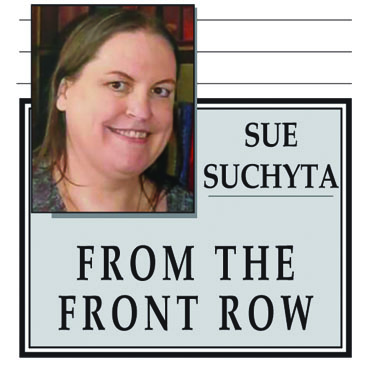 Two dissimilar shows with the common thread of social justice open soon, with "Annie," the story of a spunky orphan and set during the Great Depression, opening at the Fisher April 25 and the University of Detroit Mercy Theatre Company's production of "Unheard Voices – Afro-Brazilian Diaspora," opening April 20, exploring communities formed in Brazil by rebelling African slaves.
NORTH AMERICAN TOUR OF 'ANNIE' TO SHINE AT THE FISHER THEATER
It may not be "the top of the Chrysler Building," but the North American tour of "Annie" is sure to shine like "the golden tower of the Fisher Building" April 25 to 30 when the Tony Award-winning musical lands at Detroit's Fisher Theater for a one-week run.
"Annie," set during the Great Depression, is a story of optimism in the face of adversity as a spunky orphan shares her positive outlook and savvy street smarts with others.
Director Jenn Thompson, who played Pepper in the original Broadway production of "Annie," said the show remains popular because it reminds people that the future can be better despite their current problems.
"The show continues to delight generations of theatre-lovers by joyfully singing into the face of adversity with perseverance, guts and guile," she said. "'Annie' has continued to shine brightly, not only as an appeal to our better angels, but also as an example of the thrill of hope, promising a better 'Tomorrow' not only for Annie, but all who need her message."
The show opened on Broadway 47 years ago, and went on to win seven Tonys, including Best Musical, Best Book and Best Score, a Grammy for Best Cast Show Album, the New York Drama Critics Circle Award for Best Musical and seven Drama Desk Awards, including Best Musical.
"Annie" was revived on Broadway in 1997 and 2014; has three movie versions, made in 1982, 1999 and 2014; and has been translated into 28 languages.
The much-loved songs include "It's the Hard-Knock Life," "Tomorrow," Miss Hannigan's "Little Girls," "N.Y.C.," "Easy Street," "You're Never Fully Dressed Without a Smile," "Maybe" and "A New Deal for Christmas."
The show runs 7:30 p.m. April 25 to 30, with 12 p.m. April 27 and 2 p.m. April 29 matinees.
Tickets start at $35 and are available at Ticketmaster.com, BroadwayInDetroit.com and the Fisher Theater box office, 3011 W. Grand Blvd. in Detroit.
UDM THEATRE COMPANY PRESENTS 'UNHEARD VOICES: AFRO-BRAZILIAN DIASPORA'
The University of Detroit Mercy Theater Company presents the world premiere of "Unheard Voices: Afro-Brazilian Diaspora," the story of African slaves who created their own communities in Brazil when they escaped bondage, and the lives their descendants made.
The multi-media production is the creation of Director Greg Grobis of Royal Oak, department chair and associate professor of performing arts, who was inspired by a Fulbright Hays Group Project Abroad program grant, which supported his 2022 trip to Brazil, where he visited several quilombos, communities founded by black slaves who overcame their oppressors.
"My hope is that this production will illuminate the courageous and brave voices of the Afro-Brazilian diaspora that live in the quilombos," he said. "All proceeds from the production will benefit a quilombo community to help contribute to securing their land rights."
Each performance will be followed by a discussion with Fulbright Hays scholars about the issues presented in the play and occurring in Brazil.
The production features students from UDM's Theatre and Social Change class. The show utilizes techniques employed by Brazilian activist and theatre practitioner Augusto Boal, author of "Theater of the Oppressed."
Grobis said the performance illustrates the social, political, spiritual and cultural experiences of quilombos as well as of the student actors.
"From my research in Brazil, and methods and tools from our Theatre and Social Change class, students are devising and creating vignettes that will be performed throughout the show," he said.
Senior Jade Sibert of Detroit, a student in the class and a cast member, said she is thrilled to be involved with the process and the production.
"It's exciting because it sparks conversation and inspires all kinds of change," she said. "I've also come to realize that most things in life have multiple sides, so this kind of forum theatre allows you to try different strategies and solutions with audience help, and you create a story that involves everyone."
Dearborn Heights actor Adam El-Zein is in the cast, along with Alexus Bantum, Michael Bell, Elizabeth Breger, Josiah Martelle, Mason Modzelewski, Katherine Mutschler, Gavin Rapuzzi, Zaria Reid, Jade Sibert and Martelle Underwood.
Two Dearborn residents and theater professionals support the show's tech, with Alan Devlin serving as technical director and scenic and sound designer, and Seth Amadei as the lighting designer.
The show runs 7:30 p.m. April 20 to 22 and 3 p.m. April 23 at the Marlene Boll Theater at the Boll Family YMCA, 1401 Broadway in Detroit.
General admission is $25, with $18 tickets for seniors and for UDM staff and faculty, and $10 for students with identification. To order tickets, go online at DetroitMercyArts.com, call the box office at 313-993-3270 or visit the box office on campus in Reno Hall, Room 43, 4001 W. McNichols Road in Detroit.