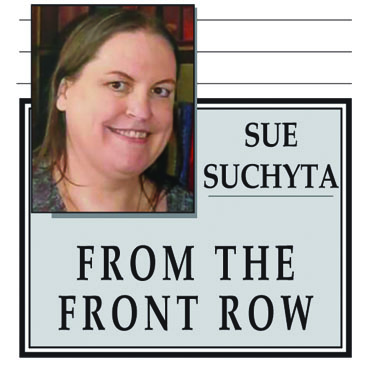 The "Six" singing sensations with a royal range comes to the Fisher Theater May 23 through June 11 with the Tony Award-winning musical which audiences are reputedly "losing their heads" over. 
The British musical, with music, book and lyrics by Toby Marlow and Lucy Moss, weaves a musical tale with the first-person accounts of the six wives of Henry VIII, set in the framework of a pop concert.
The wives – Catherine of Aragon, Anne Boleyn, Jane Seymour, Anne of Cleves, Katherine Howard and Catherine Parr – create a competition to explain, through song, how each of them suffered at the hands of their royal husband, with the honor of lead singer going to the dubious winner. 
"Six" premiered at the Edinburgh Festival Fringe in 2017, and in January 2019 premiered in London's West End Theater. It opened on Broadway in March 2020, only to be shuttered by the pandemic. The show reopened in October 2021, and in 2022 two North American tours were launched. 
Each of Henry VIII's wives have a tale to tell through powerfully delivered pop songs.
Wife No. 1, Catherine of Aragon, reveals how Henry VIII tried to annul their marriage and send her to a nunnery when he set his sights on wife No. 2, Anne Boleyn. 
Boleyn, in turn, tells of Henry VIII's infidelity, and how her flirtations to make him jealous made her lose her head – literally. 
Wife No. 3, Jane Seymour, gave Henry VIII what he most wanted – a male heir – but she died two weeks after giving birth from the complications of childbirth. 
The fourth wife, Anna of Cleves, was almost immediately rejected by Henry VIII, who had their marriage annulled because he didn't like the way she looked. "Six" plays with the ploy of suggesting that she "didn't look like her profile picture." The marriage was a powerful political alliance and Anna of Cleves was treated as if she were a sister to the king. 
Katherine Howard, the fifth wife, was much younger than Henry VIII, and though the king initially doted on and indulged her, rumors of her infidelity eventually led to her beheading as well.
Wife No. 6, Catherine Parr, outlived Henry VIII. In the musical, her character encourages the line of queens to define themselves by what they accomplished apart from Henry VIII and to re-establish their individuality. This, in turn, reunites the women as a strong ensemble as opposed to separate soloists, taking heartbreak and turning it into a celebration of girl power.
The show was nominated for eight Tony Awards in 2022, winning Best Original Score and Best Costume Design in a Musical.
Tickets start at $49 and are available at the Fisher Theater box office or online at BroadwayInDetroit.com or Ticketmaster.com.
Showtimes are 8 p.m. May 23 to 27, 30 and 31, and June 1 to 3 and 6 to 10; 7:30 p.m. May 28 and June 4 and 11; with 2 p.m. May 27 and 28 and June 3, 4, 10 and 11 matinees.