Parents angered by condescension, limited talk time
By SUE SUCHYTA
Sunday Times Newspapers
WYANDOTTE – Frustrated parents filled the cafeteria of Washington Elementary School the evening of March 2 to express concern to Wyandotte Public Schools Supt. Catherine Cost about a cell tower slated for the school's roof.
Cost, who had an itemized agenda and presentation planned, with Director of Finance Ken Laub in attendance and Director of Engineering Anthony Hadley on Zoom, was interrupted by angry parents who didn't want to hear justifications for the tower and were more interested in having health and safety concerns addressed.
Attendees attempted to verbally address Cost, who directed attendees to write their questions on file cards, to be turned in, which irritated the crowd.
When Hadley's Zoom connection failed to work, more questions were shouted at Cost, who called for a five-minute timeout, after which she said she would shut down the meeting if attendees continued to speak without being recognized by her.
When Cost stepped out of the room, parents Alexandria Cotner, who works in health care, and attorney Josh Castmore went to the front and began to talk to the crowd about their concerns of the health risks present with cell towers, especially around young children.
Cotner said that a contract for the cell tower has already been signed by the district. She said their goal for the meeting was to get a pause on the cell tower installation until more information about a tower's impact is gathered.
"Even if you don't believe the research, if there is any doubt in your mind that 15 years down the road my daughter's going to have cancer because of this, any one of our kids or teachers, anyone in this building, please help us," she said. "We want to work with you."
Castmore said that as a lawyer with a background in zoning and real estate law, he reviewed the cell tower lease he obtained through a Freedom of Information Act request, and he said it is "one of the most one-sided leases he has ever seen."
"If we don't do something here, this tower will be in place for the next 30 years," he said.
Castmore said T-Mobile has all the options at its disposal with its current contract.
He said the contract gives the school district $1,000 a month for the tower, plus $150 for utilities.
Castmore contends that the tower will not be in compliance with federal, state and local laws. He said the city requires cell towers to be in industrial zones or on property that is owned by the city, and school district land is not owned by the city, which he said puts T-Mobile in breach of its contract with the district.
He said the engineer should not have made the determination that the school property was exempt from a special land use, and said that the determination should have been made by an attorney.
Castmore said the district did not consider the health of the students and staff when it contracted for a cell tower atop the school.
When Cost returned to find Castmore addressing the attendees, she tried to shut him down and announced that the meeting was ended.
Castmore, speaking without a microphone after Cost took it away from him, said he is ready to file a lawsuit on behalf of the parents, students and staff if the school district refuses to answer their questions. As he was talking, Cost tried to stop him from talking, as attendees cheered him on.
Wyandotte police officers then arrived, and Cost instructed them to have people leave the building.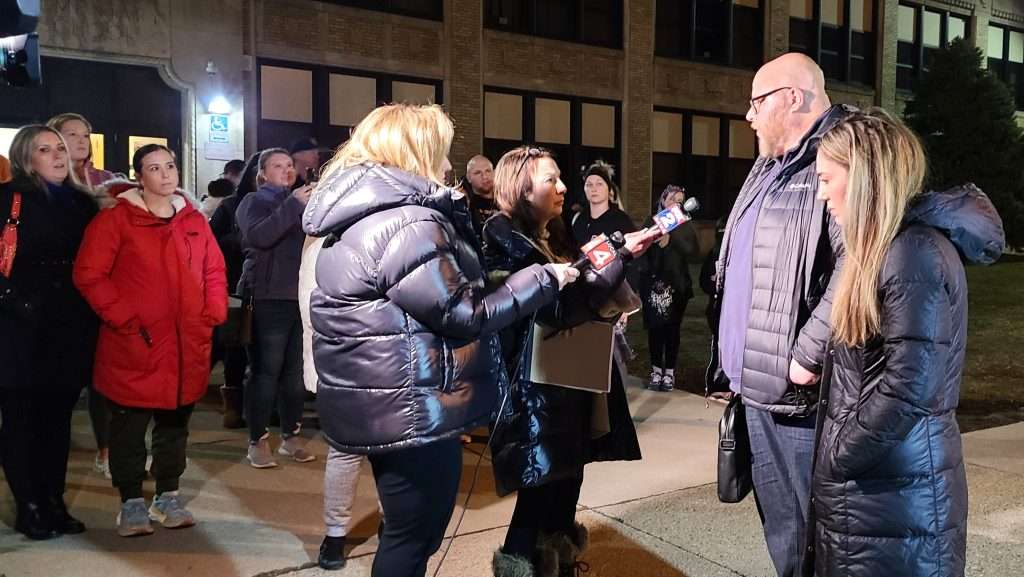 News crew from local WJBK Channel 2, WDIV Channel 4 and WXYZ Channel 7 began to interview parents in the meeting room, which prompted Cost to physically intervene and disrupt the interviews. She directed police officers to compel the news crews to leave the building.
The local news reporters then exited the building and interviewed Castmore, Cotner and other stakeholders outside of the school building.
School Board trustees in attendance — Cindy Kinney, Theresa Crnkovich, Dana Browning, Kathleen Kane and Carrie Martinez — did not speak up during the meeting.
Cost's Powerpoint presentation — which intended to cover the tower installation timeline, how cell towers operate, government cell tower regulations, safe operating levels, transformer and generator operation history and current cell tower research – fell on deaf ears when Cost declined to answer the questions of attendees at the beginning of the meeting. Cost said she would take questions at the end, which angered attendees.
Cost said T-Mobile approached the school district in 2018, and identified Washington Elementary School as an ideal 5G site location. She said federal, state and local approval were obtained, but the installation timeline was delayed due to the COVID-19 pandemic.
She said that in September 2022 school families received a letter about the cell tower.
Cost's presentation, which was handed out but not presented to the gathering due to the meeting's early termination, contended that the cell tower was far enough away from the playground so the radio frequency would not impact children at play. The presentation also contended that glass and bricks protect children in class rooms from cell tower radio frequencies.
Three other area school districts – Taylor, Gibraltar and Dearborn Heights District 7 – were identified as having cell towers on school grounds. In addition, Michigan school districts in Birmingham, Livonia, Grand Rapids and Jenison were listed as having cell towers.
Cost's presentation indicated that breaking the contract with T-Mobile would cost the district $1 million.