A night to feel like a VIP
By SUE SUCHYTA
Times-Herald Newspapers
DEARBORN – A sparkling banquet hall, a beckoning deejay and a welcoming dance floor created magic May 18 during the Fordson Interact Club and the Amity Foundation's annual Special Needs Prom.
The event, at Byblos Banquet Center, featured dancing, a sit-down dinner, a photo station, a sweet table and the chance to make memories with friends and family.
Fordson High School teacher and Interact Club co-advisor Eman Naura said this is the seventh Special Needs Prom they have held, after being interrupted in 2020 and 2021 by the pandemic.
Looking around the room at the guests having fun, she said the participant's energy is contagious.
"Watching their parents is probably my favorite part," she said. "Just watching them and their kids enjoying themselves and dancing the night away."
Naura said numerous community sponsors were generous with donations for the event, which is free to the special needs attendees and one parent, with an additional parent able to attend for a nominal cost.
She said about 20 Interact Club students attend the event, dressed up and mingling with the guests and sharing the fun of a prom with the special needs attendees.
Naura said about 70 special needs guests attended this year's event, with the event accommodating about 240 guests in total.
She said she has built relationships with the special needs teachers in the surrounding districts to spread the word about the prom. In addition, parents reach out to them to find out when the annual event will occur.
Naura said she has some cousins with special needs and loves seeing them enjoy family weddings, which sparked the idea to hold an event like this for the unique population.
"They deserve to have this night where they can have a judgement-free zone," she said. "They can come out and have fun and not worry about anything else."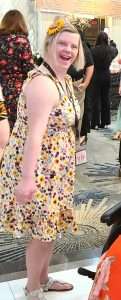 Sufian Al-Gaithi, whose 16-year-old daughter, Naeiah, attended, said she enjoys spending the special evening with friends and family, and it brings him joy to see her happy.
Her mother, Fredricka Al-Gaithi, said it was an emotional time for her, seeing her daughter all dressed up, which her daughter enjoys doing.
"Things like this make her so happy," she said. "Actually, me and her dad went to prom together, so this is a great experience to share with her."
Attendee Somaya Jumjum, who has mobility challenges, was dressed up in pink, her favorite color. Said she enjoys seeing everyone smiling and being happy.
Dearborn Police Lt. Jason Skoczylas, on behalf of Police Chief Issa Shahin, honored Naura for her service on behalf of the special needs students with a certificate of recognition and thanked her for making the community a better place.
After the attendees cheered, the music came back on, and guests, including Tori Gontarski, 28, of Dearborn, filled the dance floor, which she said was her favorite part of the prom, especially dancing to Katy Perry songs. She said getting dressed up was fun, too.
Interact Club volunteer Reem Mazloum, 17, said it makes her happy to see the special needs guests enjoying themselves.
"I like helping out, and I think this is a great event to do that," she said. "You also get to meet a lot of new people and it's really nice to see everyone happy and having fun and enjoying themselves."
Interact Club volunteer Amina Beydoun, 18, said it was heartwarming to see the attendees having fun.
"Honestly, sometimes it makes me tear up," she said. "It's good to be nice to everybody and to treat everybody the same. Everybody deserves to have fun in their life, and we need more kindness spread throughout the world."