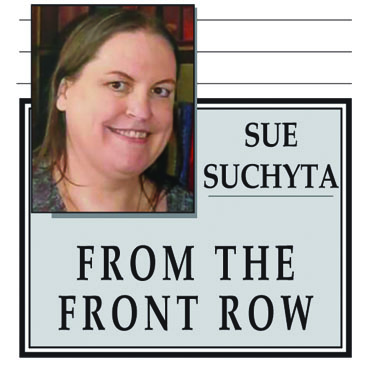 Trenton's Open Book Theatre Company will launch its second season of socially distanced, outdoor Driveway Theatre shows on May 28 with Sean Paraventi's "Every Love Story Ever Told."
Directed by Krista Schafer Ewbank, the show features Ryan Ernst and Tiaja Sabrie as Marvin and Marge, who celebrate their wedding anniversary by acting out "every love story ever told" in a half hour.
Paraventi said he is a hopeless romantic.
"'The Complete Works of Shakespeare (Abridged)' was definitely an inspiration for this project," Paraventi said. "There is a broad range of source material: Biblical, Shakespeare, romcoms and sitcoms, classic movies, and even a bit of Greek tragedy thrown in. After all, it is every love story ever told."
He said the show has more laughter than tugging at the heartstrings, but audiences can expect both.
Ewbank said Praventi, as a second season playwright, was familiar with the unique demands which Driveway Theatre presents.
"The script is funny, sweet and fast-paced," she said. "It covers a lot of ground in just 30 minutes."
Ewbank said Driveway Theatre was created last summer as a way to perform during the pandemic.
"It was so much fun, for the audiences and artists," she said. "We used theater to bring joy, entertainment and inspiration, and to really bring people together."
Ewbank said Driveway Theatre safely gathers people in their own communities, whether it is a senior group in a park, a multi-generation family in a backyard or a congregation in a church parking lot.
"We are planning to keep Driveway Theatre as part of our regular offerings, even when we are not in a pandemic," she said. "We are excited by the opportunity this gives us to work with local playwrights and have scripts that speak to our specific time and space."
Ernst and Sabrie, who are engaged, are back for a second season of Driveway Theatre.
Ernst said the show reinforces the idea that love is love, and it appears in endless variations throughout history.
"A common thread seems to be love triumphing over odds," he said. "It can conquer a lot of things that try to stop it from happening."
Ernst said that overcoming challenges while falling or being in love is an intrinsic element of the human condition.
"Nothing good comes easy, and love is no exception to that," he said. "There is no right way to love, and it comes in all shapes, sizes and eras, and is as unique as humanity itself."
Sabrie said performing with her fiancé in a show focused on romantic love allows her to discover those elements in their own relationship.
"It is always rewarding, as an actor, to bring something home from a show or character that expands my own life in some way," she said.
Sabrie said a common thread found throughout the vignettes are the imperfections.
"The stories we explore are imperfect romances, because every romance is imperfect," she said. "Condensing them down brings those flaws to the forefront, which makes the love in those stories all the more real."
Sabrie said the ability to experience love in all of its forms is intrinsically human.
"I have to say, though, that I don't know if I love anyone as much as my dog does," she said.
Sabrie hopes audiences are both entertained and given a chance to recall their own romances.
"I hope people get a moment to reflect on their own loves, and maybe revisit some love stories they haven't seen in a while," she said.
Two other original Driveway Theatre shows will be offered, with a July 2 to Aug. 8 run of Meg Berger's "Advantage Rule," and an Aug. 13 to Sept. 17 run of Craig Ester's "You Talk White."
In addition, "Off Book Improv" will be available outdoors May 28 through Sept. 17, as the improv team takes audience suggestions while they entertain and produce laughter.
"Every Love Story Ever Told" will run May 28 through July 4, and can be booked to appear in a yard, or a nearby park or parking lot (with permission).
Bookings start at $100, with a "pass the bucket" option, or $500 for a "no bucket" option. Additional fees apply for travel beyond the Downriver area.
To book a performance, contact Maria Tejada at 313-378-7879 or [email protected] For more information about OBTC, go to openbooktc.com.