An ambitious transit proposal that's been gathering steam for over a decade could significantly contribute to addressing the inequities in access to transportation between northern and southern Michigan.
By PATRICK DUNN
Metromode Media
For many downstate Michigan residents, a trip Up North is the quintessential summer experience, just a short drive away. But for others – particularly Michiganders of color, those with income challenges, and those who don't own a car – Up North may as well be a world away.
"It's not accessible at all," says Donald Stuckey, a lifelong Detroiter and former board president of Transit Riders United, who doesn't own a car because of the high cost. "(Traveling Up North is) simply not available to us down here unless you have a personal vehicle. And gas prices fluctuate from hour to hour. It really cuts us off from the other really nice parts of Michigan."
However, an ambitious transit proposal that's been gathering steam for over a decade could significantly contribute to addressing the inequities in access to transportation between northern and southern Michigan. Since 2011, Traverse City nonprofit Groundwork Center for Resilient Communities has been studying and advocating for a passenger rail line connecting Traverse City to Ann Arbor, using existing tracks that are currently used by Great Lakes Central Railroad for freight service.
Groundwork commissioned a feasibility study for the route in 2018, and Groundwork Deputy Director Jim Bruckbauer recently presented to Michigan senators about the project. The route would also cross over the passenger line that runs east to west in the southern Lower Peninsula, offering the potential to connect Detroit, Dearborn, Kalamazoo, and Battle Creek to points north.
Carolyn Ulstad, transportation program manager at Groundwork Center, says the line has the potential to serve numerous groups in Michigan, ranging from older adults to younger ones, who are less likely to have a driver's license.
"I think that trains can promote equity by improving that connectivity and accessibility to different places," she says. "When you're able to travel greater distances, you have greater employment opportunities and social, cultural, medical opportunities, and just overall better quality of life."
Making tracks for equity
Groundwork's advocacy for the service was prompted by Michigan's 2011 State Rail Plan. Surveys conducted for the plan found that Traverse City was the most desired location for a passenger rail connection in the state. Ulstad says Groundwork latched onto the idea of Traverse City-to-Ann Arbor service as a facet of the organization's efforts "to make cities vibrant and successful," and expanding transportation equity contributes to that goal.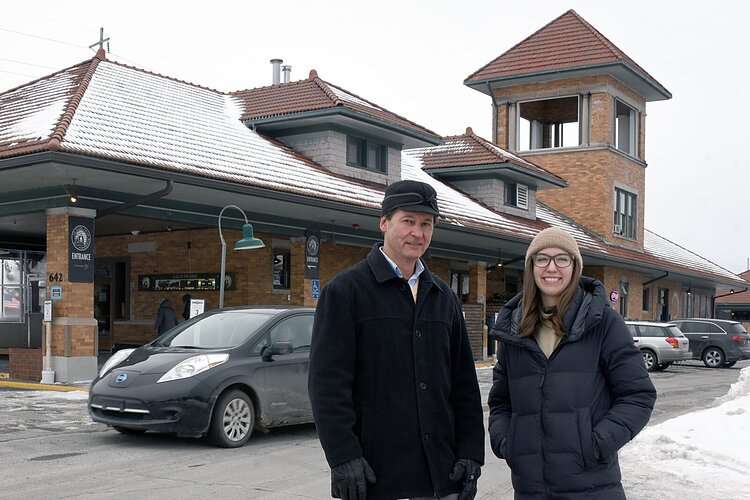 Ulstad notes that all of Michigan's existing passenger rail service is in the south of the state, and primarily designed to connect Detroit to Chicago. She says Groundwork's proposed service will help better connect the state and reduce dependence on personal vehicles, "leading to greater economic security and all that comes with that in terms of quality of life."
"That stability among residents is key to having a vibrant community," Ulstad says.
There are already some bus connections between northern Michigan and downstate. But Ypsilanti Township resident Larry Krieg, vice chair of the Michigan Association of Railroad Passengers, says "there is a world of difference between riding on a train and riding on a bus." Krieg would know; for an experiment in 2017, he took the bus from Milwaukee to Escanaba to southern Michigan. The lengthy trip began in the evening and ran through the night, with limited ability for passengers to move around on board.
"I wish I could say it was a wonderful experience," Krieg says. "I just can't say that. … It's not what you would do for recreation. You'd do it if you had to."
Krieg also notes that a car trip Up North can be an unpleasant experience for Michiganders of color. Bruce Ross, deputy director of the Green Door Initiative and former chief of field operations for the Michigan Department of Natural Resources, has experienced that firsthand.
The Ypsilanti Township resident, who is black, has traveled the state for his work and says most of his experiences Up North have been positive. But he also recalls being pulled over, without being ticketed, three of the six times he drove Up North to attend meetings of the Michigan Recreation and Park Association.
"I expect to be pulled over every time I go up there," Ross says.
Ulstad says she hopes a train could help "ease some of that tension, just a bit."
"You don't have to worry about those stops in places you don't know," she says. "You don't have to worry about directions or getting lost. You don't have to worry about your car getting pulled over for some random reason and having to deal with that situation. … It could allow someone to feel like they can get out of their comfort zone to go see beautiful places and travel further north, where maybe someone wouldn't want to take that four-hour drive to get there."
Linda Walter, director of Detroit's Outdoor Adventure Center, says the implications of a passenger rail line to Traverse City would be "mind-blowing" for her work. She says the hardest part of her job is finding transportation to take the students she works with to experience natural sites outside of Detroit.
Walter fondly remembers going camping with her family while growing up in Warren, but also remembers that her family's car broke down three of the first four years they attempted a camping trip. She says she never would have camped or developed her love of nature if not for her dad's perseverance.
"Reliable transportation that can take you three hours away from home … is a big deal that a lot of folks in metro Detroit, the city and suburbs, don't have," Walter says. "Like my dad, they end up on the side of the road instead of Up North. Or they just go, 'We can't go there.'"
In addition to encouraging more travel northward from downstate, Ulstad says Groundwork envisions travel flowing in the opposite direction. She says the service should be designed not just for tourism, but also for residents of Traverse City and other communities along the line to get to work, school, medical appointments, and other needs.
Russ Soyring, who recently retired from a 35-year career as Traverse City's planning director, agrees. He also notes that Traverse City residents could use the line to reach sporting and cultural events to the south.
"The more transportation options we have, the more equitable it is for people who live here or are visiting this area," he says. "They have those options available to them. That has real benefits."
Connecting to Detroit
Groundwork's current proposal focuses on establishing service between Traverse City and Ann Arbor, but Ulstad says connecting the service to Detroit is the organization's "final goal." However, that's easier said than done.
The north-south line that would be used for Groundwork's proposed service actually crosses above the east-west passenger line just northwest of the Ann Arbor Amtrak station. That poses an additional engineering and logistical challenge to create an easy transfer, or continuous journey, from one line to the other.
Ann Arbor Transportation Manager Eli Cooper notes that a study for a Lansing-to-Detroit passenger rail line, conducted in the late '90s, proposed a connecting bridge that would directly link the two lines. Cooper notes that such a connection would be costly.
"That opportunity still exists," he says. "It's just, are there enough resources and a justification for making that investment?"
There are other, less complicated and costly options to connect the lines. Megan Owens, executive director of TRU, suggests that the Ann Arbor Area Transportation Authority could provide shuttle buses for riders transferring between the east-west and north-south lines in Ann Arbor.
"It may not be the easiest thing, the most convenient," she says. "But until we have a single intermodal connection, which I don't know how feasible that is, that might be what needs to be done."
Stuckey says connecting the line to Detroit is key. He notes that the D2A2 bus service between Ann Arbor and Detroit could help connect the line to Detroit, but is "not sure that'll be the most equitable thing."
"(Detroit) is the biggest city in the state and to me it just makes sense to have that option available here in the Detroit area," he says.
Designing for equity
Connecting the Ann Arbor-to-Traverse City line to Detroit and other cities along the southern passenger line isn't the only way the new service could prioritize equity. Advocates also list transportation to and from the train, and ticket costs, as key equity considerations.
Owens says one of the most common questions she hears about the service is "Sure, it'd be cool to take a train up. But then what?"
"You need to have different transportation options once you get there," she says.
Soyring notes that Traverse City is already well poised to offer "last-mile solutions" for people once they get off the train. The city has sought to emphasize walkability and deemphasize car travel in recent years by adding and improving sidewalks — including near the city's train depot — as well as eliminating minimum parking requirements for downtown developments.
The train depot is conveniently located to access downtown attractions, and bike rentals could easily be made available near the depot. But Soyring adds that traveling outside the city could be more challenging and costly for train passengers. And he says it's important for other cities along the line to develop similar last-mile solutions.
"You want to make sure you don't have to hire a taxi cab to get on the train, that you don't have to rent a car to get to the train station," Soyring says. "You want to make sure you can either walk, bike, or take a city bus to get to the train station."
Krieg notes that transportation to and from the Ann Arbor train station will be similarly important – particularly in the less affluent Ypsilanti area, where he lives.
"You've got to have a way to get there that would make access as frictionless as possible," he says.
Ticket costs also represent a potential barrier to some Michiganders being able to take advantage of the service. Stuckey says the cost of a train ticket can be a "difficult pill to swallow," particularly compared to the cost of a bus ticket.
Soyring suggests a voucher program or similar initiative to make tickets available at a lower rate to those who may experience income challenges. Krieg anticipates that there'll be "an ongoing tension between the desire for everybody to ride and the desire to make a profit."
"You can go to the state legislature and look for money to expand accessibility for low-income people, and you're going to get all kinds of excuses from state legislators to say, 'No, that ain't gonna happen,'" he says. "So we have that continuing struggle going on."
'This could be a great year'
Groundwork is now considering its next steps towards making the Traverse City-to-Ann Arbor line a reality. Ulstad says both the Michigan Department of Transportation and GLC are supportive of the effort.
The next step, as identified by the Federal Railroad Administration, is a service development plan, which would take a more granular look at the specific infrastructure changes and improvements needed to implement the service. Ulstad says it's "really important" to Groundwork to work with a diversity, equity, and inclusion consultant throughout the process of creating a service development plan.
"We are not the experts in that and we don't want to continue getting things wrong and impacting communities of color, specifically, in the wrong ways," she says.
Ross agrees with that approach. He says a rail line alone won't solve the many challenges black Michiganders face in getting around their own state. But he says bringing those residents to the table is crucial.
"I'm all about progress, but I think communication needs to be better," Ross says. "They need to sit down when they start building these things and start getting people in the room and start having diversity, equity, and inclusion discussions with the leadership in these communities."
The greatest current barrier to the project's progress is cost. Ulstad says a service development plan would take about a year and would cost $700,000 to $1 million. Beyond that, there are many more expenses to ready the line for passenger service.
But Ulstad says she and her colleagues are "feeling like this could be a great year" because of the large influx of federal funds from the American Recovery Plan Act and the Infrastructure Investment and Jobs Act. As a result, she says, she expects there'll be less fighting than usual in the state legislature over funds and that there'll be "maybe even enough to go around" for the next step toward rail between Traverse City and Ann Arbor.
"People come up here for the vast forests, sand dunes, crystal-clear water, and night skies," she says. "And the train, I think, has the ability to open that up to so many more people."
Patrick Dunn is the managing editor of Concentrate and an Ann Arbor-based freelance writer and editor.
(This story was reprinted from Metromode Media. It also is available at: https://www.modeldmedia.com/features/a2tcrail03082022.aspx.)