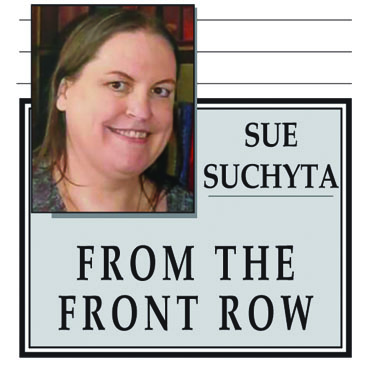 From the book of Genesis to modern times, people pass on their stories, relating how they and their families survive and thrive through good times and bad. Telling those stories on stage is an important part of our shared experience, whether one is retelling Biblical events or the struggles of the present day.
TRENTON'S DYPAC PRESENTS 'CHILDREN OF EDEN JR.'
The Downriver Youth Performing Arts Center presents, "Children of Eden Jr." Feb. 17 to 19 at the Trenton Village Theater, 2447 W. Jefferson Ave. in Trenton.
Based on the Biblical Book of Genesis, the Stephen Schwartz musical follows "the Father" and his headstrong creations, Adam, Eve, Noah and their children, as faith and loyalty are tested and the bonds of family and love remain strong.
Tamara Marla Hornby of Wyandotte, who serves as director, music director and co-choreographer, said "Children of Eden" has been near and dear to her heart since her high school days.
"I very quickly fell in love with the music and characters," she said.
Hornby said the show has a demanding, complex score which is sung throughout the show.
"This is definitely vocally demanding," she said. "We are fortunate to be working with such talented and capable young people."
Hornby said the show allows members of the ensemble to serve as storytellers, and in doing so features the young performers in many different roles.
"Don't let the cast's young age fool you into thinking this is a beginners production," she said. "We have incredible performers and these kids are ready to put on one heck of a show."
Hornby said the show is a collaborative effort, and credits the production team and parents with contributing to the show's success.
Lexi Pitock, 10, of Carleton, who plays Yonah, said she enjoys singing the most, while learning the dances and blocking were the most challenging aspects for her.
"It is an amazing show and has great actors in it," she said.
Conversely, Ciana Litten, 10, of Riverview, who plays Mama Noah, said learning the dances was the most fun for her, while learning her song, "Ain't It Good" presented her biggest challenge.
"The show is about the Bible," she said. "It's going to be an amazing play."
Noah Rodriguez, 14, of Flat Rock, who plays Adam and Noah, praised the show's music.
"It's fun and heartfelt when it needs to be, and the story is deep and moving," he said. "When my uncle was in high school, he played Adam and Noah, so I'm honored to play this part and let it live on to the next generation."
Sofia Castrillon-Ibarra, 10, of Brownstown Township, a storyteller soloist and a snake, praised the show's special effects.
"I think all the effects will turn out really cool," she said.
Ava Arnold, 14, of Monroe, who plays the Father, said that while learning the harmonies is challenging, she enjoys the new friendships she has formed among the cast.
"It's about Noah, and Adam and Eve," she said. "They'll want to read the real stories, and how the real Father loves you."
Alexandra Czata, 17, of Riverview, who plays Eve, said she has enjoy learning the show's songs as well as making new friends in the cast.
"It is a fun show, with a lot of fun characters," she said.
Others in the cast include: Selena Malnar, 9, of Allen Park; Nicholas Bond, 9, Evan Langlet, 11, and Legend Peetz, 10, of Brownstown Township; Makenna Lombardo, 6, of Dundee; Liv Harrison, 13, Ava and Mercedes Koorsen, both 14, and Sawyer Watson, 13, of Flat Rock; Alainna Sworst, 12, of Grosse Ile Township; Gianna Cowell, 11, Brandon Lozowski, 9, and Maggie Lozowski, 7, of Riverview; Genevieve Dassow, 13, of Southgate; Kaylee Johnson, 10, of Taylor; and Karter Adams, 11, Lola Burk, 12, Layton Gonsalez, 10, Lucy Hurst, 8, and Trevor Robinson, 11, of Trenton.
The show is produced and assistant directed by Cindy Robertson, with Nathan Vasquez as an assistant director and co-choreographer.
"Children of Eden Jr." runs 7 p.m. Feb. 17 and 18 and 2 p.m. Feb. 19 at the Trenton Village Theater, 2447 W. Jefferson.
Premium tickets are $14, with other tickets $12 for adults and $10 for students and seniors. To purchase tickets online, go to dypac.com.
FISHER HOSTS DETROIT PREMIERE OF 'JAGGED LITTLE PILL'
Broadway in Detroit will host the Detroit premiere of Alanis Morissette's "Jagged Little Pill – the Musical" Feb. 14 to 26 at the Fisher Theater.
The musical, the third show featuring Morissette's music, is inspired by her 1995 album of the same name, and focuses on "pain, healing and empowerment."
The show was nominated for numerous Tony Awards in 2020, winning Best Book of a Musical for Diablo Cody, and Best Performance by a Featured Actress in a Musical for Lauren Patten, as well as a 2021 Grammy Award for Best Musical Theater Album.
"Jagged Little Pill" follows a modern family and its struggles with addiction, trauma, empowerment and healing.
The story follows a woman, her family and her extended family who try to portray themselves as perfect in their holiday letter, but who come to discover a new definition of who and what they really are.
Audiences will relate to many of the issues the family faces, whether substance use disorder or sexual trauma.
The show features many memorable songs, among them "All I Really Want," "Hand in My Pocket," "Smiling," "Ironic," "So Unsexy," "That Would Be Good," "Hands Clean," "Head Over Feet," "You Oughta Know," "Uninvited," "Thank You" and "You Learn."
Tickets for "Jagged Little Pill" start at $40 and are available by phone at 800-982-2787, at Ticketmaster.com and at the Fisher Theater box office.
Showtimes are 8 p.m. Feb. 14 to 18 and 21 to 25 and 7:30 p.m. Feb. 19 and 26, with 2 p.m. Feb. 18, 19, 25 and 26 matinees.
Children under the age of 5 will not be permitted in the theater, and the show is not recommended for those under age 14, as it contains strong language, adult themes, drug uses and sexual violence.