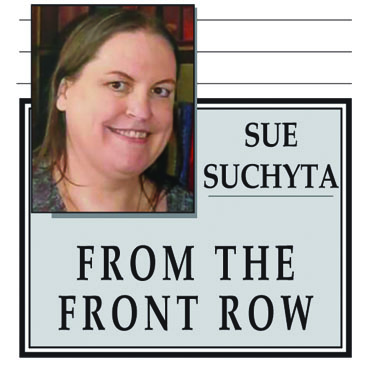 Two Dearborn high schools open musicals next week, with Dearborn High School presenting the high school version of Tina Fey's "Mean Girls" and Divine Child High School presenting Meredith Willson's "The Music Man." In addition, the musical comedy "The Book Mormon" returns to the Fisher Theater. 
DHS PRESENTS 'MEAN GIRLS – THE MUSICAL' HIGH SCHOOL VERSION
Dearborn High School presents "Mean Girls – The Musical" at 7:30 p.m. March 15 to 18 at Valentine Auditorium at DHS, 19501 W. Outer Drive in Dearborn. 
A coming-of-age musical, based on the 2004 movie, "Mean Girls," the high school edition of the musical follows Cady, a newcomer to a high school, as she learns to navigate the treacherous cliques and the unwritten rules of surviving high school. 
The musical features music by Jeff Richmond, lyrics by Neil Benjamin and book by Tina Fey. 
Director Greg Viscomi said he chose the production because it was an opportunity to bring a new musical to the Dearborn area. 
"I think audiences will enjoy the production," he said. "The high school version is more appropriate for local audiences than the movie."
Viscomi said the author's edits, as well as the show's staging and costuming, make the show more accessible, and he has enjoyed watching his student grow as performers. 
"Audiences will enjoy this premiere of 'Mean Girls,'" he said. 
Joining Viscomi are Jennifer Pegouske as musical director and Emma Garber as choreographer. 
Five of the roles are double cast. On March 15 and 17, Madelyn Luckey plays Cady Heron, Charlotte Karoub plays Regina George, Ryan Furchi plays Damian, Myiah Whitworth plays Gretchen Wieners, Sukayna Bazzi plays Karen Smith and Adam Makled plays Aaron Samuels. 
On March 16 and 18, Ava Assenmacher plays Cady Heron, Savannah Capote plays Regina George, Julius Owens plays Damian, Eliana Quesada plays Gretchen Wieners, Ava Nasser plays Karen Smith and Stefano Ciavaglia plays Aaron Samuels. 
Also in the cast are Carter Coykendall as Kevin, Brenna Thorpe as Mrs. George, Ava Danysh as Ms. Norbury and Erik Giedeman as Mr. Duvall. 
The ensemble includes: Shahd Ababneh, Willow Anderson, Ella Beatty, Giovanni Bitonti, Hannah Frederick, D'Aria Fuller, Sofia Ghannam, Jesse Good, Eva Hammoud, Emmy Lahay, Emily Maginity, Isabella Palise, Jack Rutledge, Alex Sassanelli, Maysoon Saidi, Peter Schondorf and Iyanna Wilson. 
Karoub, one of two students cast as Regina George, said that as the clique's queen bee, she needed to focus on having her character express more than just haughty annoyance. 
"I've enjoyed getting to delve deeper into these characters and to put myself into Regina's 'head space,'" she said. 
Karoub said she remembers being bullied in elementary school when some hurtful comments were hurled her way. 
"I think the show does have a good message about how we are all beautiful," she said. "Putting others down won't make us better people."
Quesada, who is double cast in the role of Gretchen, said she was actually bullied by someone who wanted the role in which she was cast. 
"My friends helped me get through it," she said. "This show sends a message that bullying in high school can really affect a person's life."
Assenmacher, one of two actresses playing Cady Heron, said she can relate to being bullied as well.
"I think this show sends a strong message," she said. "It has been difficult going from acting naïve and innocent to acting mean and manipulating, but it has been fun learning to combine the differences." 
Tickets are $14 for general admission, $12 for college students with identification and $10 for students 18 and younger, and for seniors 65 and older. Call 313-827-1647 for tickets and more information. 
DCHS PRESENTS 'THE MUSIC MAN'
Divine Child High School presents the Tony Award-winning Meredith Willson musical "The Music Man" at 7:30 p.m. March 17, 18, 24 and 25 and 2:30 p.m. March 19 and 26 at the DCHS auditorium, 1001 N. Silvery Lane in Dearborn. 
Traveling salesman and con artist Harold Hill fast-talks the people of River City, Iowa, into buying band instruments and uniforms for a children's band. His usual method is make a quick profit and skip town before the residents realize they are stuck high and dry, but this time, Harold Hill falls in love with Marian, the librarian, and Hill isn't in any hurry to leave town. 
The show is full of toe-tapping, energetic songs, including "(Ya Got) Trouble," "Seventy-Six Trombones," "Goodnight Ladies," "The Wells Fargo Wagon," "Shipoopi" and "Gary, Indiana."
There are also memorable ballads, including "Goodnight, My Someone" and "Till There Was You."
Elisa Noeske directs the show, with assistant directors Kori Bielaniec and Gail Porada. Rebekah May is the choreographer, with music direction by Paul Abbott and orchestra direction by Bob Bush. 
Bielaniec, a DCHS alum, said it has been a joy to return to her theatrical roots and to see the growth that the school's theater program has experienced.
"It's so heartening to see the stage full of high school and elementary students having fun together, creating moments between their characters and singing their hearts out," she said. 
Noah Trapp, who plays Harold Hill, said it is his favorite role to date. 
"Everyone is doing a great job, from the sets to the choreography," he said. "We cannot wait to share it with you."
Natalie Nikolajevs, who plays his counterpart, is excited to be playing Marian, which she calls "a dream come true."
"I'm excited to see all our hard work come to fruition," she said. 
Joey Rea, who plays Marcellus, praised the cast, the costumes and the scenery.
"It's all so magical to me," he said. 
The cast includes: Noah Trapp as Harold Hill, with understudy Andrew Nodge; Natalie Nikolajevs as Marian Paroo, with understudy Izzy Pizzo; and Izzy Pizzo as Mrs. Paroo, with understudy Allysha Potts. 
Natalie Nazarian plays Charlie Cowell, with Andrew Nodge as Mayor Shinn, Joey Rea as Marcellus Washburn and Conner Godin as Tommy Dijilas. 
The Barbershop Quartet features Gabe Lencioni, Nick Lu-Tirador, Alex Tar and Mike Vena, while the Pick-A-Little Ladies include Anna Arao, Jillian Oleski, Allysha Potts and Katrina Shefferly. 
Alana Nowlan plays Eulalie Shinn, with Samantha Bush as Amaryllis, Landen Bermudez as Winthrop, Janelle Darwich as Zaneeta Shinn and Elizabeth Salinas as Gracie Shinn. 
Lea Katers plays Alma Hix, with Marisol Foster as Maud Dunlop, Katja Honkanen as Ethel Toffelmier, Sophia Weiksnar as Mrs. Squires and Ethan Yanoski as Constable Locke. 
Also in the ensemble are Molly Anders, Paul Bagazinski, Wafic Bittar, Ava Cervantes, Jane Dziamski, Liam Godin, Vivian Johnson, Aarya Lokesh, Aidan Milliken, Lucy Morris, Alina Price, Ella Postl, Marie Reifenberg, Gabby Rodriguez, Adonis Sabagh, Anasophie Sabagh, Angelo Tuohey, Antonio Tuohey and Cooper Wieckowski. 
Tickets are $15 for adults and $10 for students, with an additional $2 student discount during the Friday night performances. Tickets may be ordered online, at dchstheater.ludus.com and at the door. 
'BOOK OF MORMON' COMES TO THE FISHER
The Tony Award-winning Best Musical "Book of Mormon" will be in Detroit March 14 to 19 at the Fisher Theater, 3011 W. Grand Boulevard in Detroit. 
"The Book of Mormon," winner of nine Tony Awards, features book, music and lyrics by the talented team of Trey Parker, Robert Lopez and Matt Stone. 
Since opening on Broadway March 24, 2011, it has become one of the most successful shows in Broadway history, garnering awards and breaking house attendance records.
The musical comedy follows two missionaries from the Church of Jesus Christ of Latter-day Saints who attempt to preach their faith to people in a remote Ugandan village. However, the locals are more worried about disease, famine and the oppression of the local warlord than what the missionaries have to offer. 
However, when one of the missionaries starts to mix LDS doctrine with science fiction and fantasy, his fanciful stories actually start to draw an interest from the villagers, but the metaphors create another set of challenges when leaders from Salt Lake City come to check up on the missionaries and their new-found success.  
The Church of Latter Day Saints has had a measured response to the parody, and has even taken ads in playbills, which say, "You've seen the play, now read the book" and "the book is always better."
The show's stereotypical depictions of Africans has changed since the COVID-19 pandemic and the murder of George Floyd, and the script has been shifted to provide a different perspective. It now aims to give the villagers more agency and puts them, not the missionaries, at the center of the story. 
"The Book of Mormon" runs 8 p.m. March 14 to 18 and 7:30 p.m. March 19, with 2:30 p.m. March 18 and 19 matinees.
To order, call 800-982-2787, go to BroadwayInDetroit.com or Ticketmaster.com or visit the Fisher Theater box office.