By SUE SUCHYTA
Times-Herald Newspapers
DEARBORN – People impacted by the recent DTE power outages spoke up March 20 during an evening town hall meeting held by the Michigan Public Service Commission at Dearborn Fordson High School.
Speakers voiced frustration to Commissioners Katherine Peretick, Tremaine L. Phillips and Chair Don Scripps over having no choice other than DTE, which they said is asking for rate increases despite strong profit margins amid multiple recent power outages. Attendees called for more infrastructure investment and more credits to consumers who lost food and incurred other losses during recent outages.
U.S. Rep. Debbie Dingell (D-6th District) said she represents many residents who have been impacted by repeated outages, and she wanted to share what she has heard from her constituents.
"I heard from a number of people who were without power that lost food, that had medical crises that were significant," she said. "The people that use oxygen, many who got into acute medical situations, were reported to have died."
Dingell said the president of a paralyzed veterans group was stuck on the second floor of his condo because he had no power for his lift to work, and first responders were too overwhelmed to help him.
She said she spoke to fire chiefs who couldn't get anyone from DTE to respond to downed power lines the first night of the outages.
"People were scared and there was real danger," Dingell said. "This is an ongoing and real problem, and we need to start to build our resiliency."
She said the infrastructure situation is getting worse, not better.
"We have a partnership at the federal, state and the local level, but the Michigan Public Service Commission has really got to be critical to this," Dingell said. "We need to strengthen our power grid. I don't ever want to hear the kinds of calls where people were in life-threatening situations again."
She said she needs to know what all the utilities need to build resiliency.
"This is a crisis, one that all of us have a responsibility for," she said. "But I am worried for those that I represent and know we must do something to build the resiliency of our power grid. Status quo is not OK."
The Rev. David Sullivan from the Ecumenical Ministers Alliance said he prays that a resolution to the current problems with DTE can be found.
"I believe that the reliability of DTE and other service providers needs to be increased, sensitivity needs to be there, but, again, there needs to be a comprehensive effort there toward doing that in an intelligent way, not when we're upset and angry."
Sullivan said everyone suffers when their power is out, and it is a quality-of-life issue.
"From a ministerial standpoint, we gave our prayers that we work together to resolve these issues, to hold DTE accountable, and we look forward to seeing them do that, to do what they need to do to make things better, increase the reliability," he said.
Also voicing concerns on behalf of communities was Mary Carmen Munoz, the executive director of Latin Americans for Social and Economic Development in southwest Detroit.
She said the unprecedented weather events in recent weeks were devastating to many people in the community.
"It's not fun, and it's not anything that anyone wants," Munoz said. "DTE has acknowledged their responsibility to upgrade the grid and upgrade their infrastructure, and the MPSC has acknowledged the need for change."
She called DTE's original $35 credit for customers who lost power for more than 96 hours "ridiculous," and said the proposed $35-a-day credit was more welcome for those who lost food, medicine and even pets during the power outage.
Munoz acknowledged that DTE tries to be a good community partner and acknowledged the efforts it made to help people during the pandemic.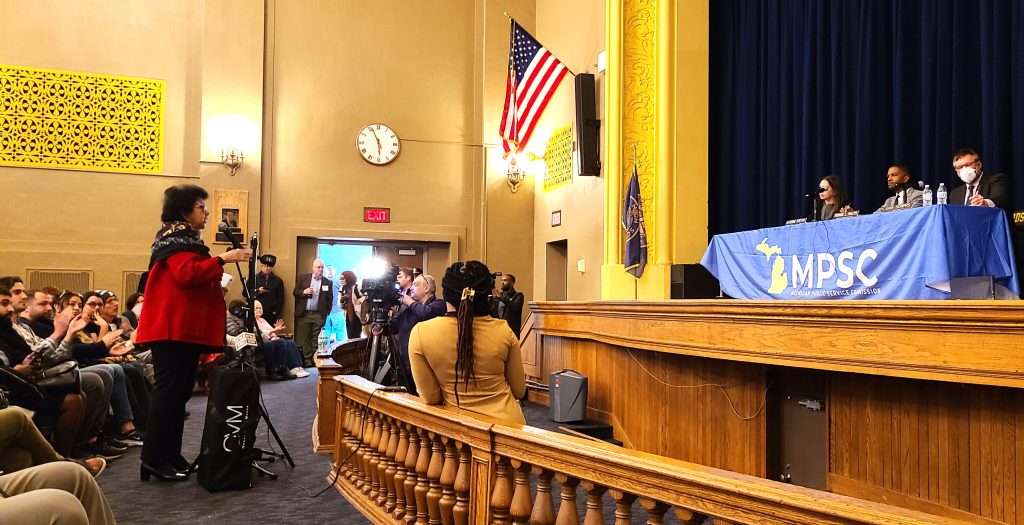 Jane C. Garcia, chair of the Latin Americans for Social and Economic Justice Board of Directors, said it was a rough time when people were without electrical power.
She called on the MPSC to continue to monitor DTE as well as natural gas providers.
Garcia also praised the MPSC's suggestion that people be reimbursed $35 a day for the outage, not for the month.
She praised DTE for providing generators to seniors who were on oxygen and needed power.
"That was very important to us," Garcia said. "Yes, we did lose some food, but we wanted to keep them alive."
She urged the MPSC to continue to hold town hall meetings to give residents a voice.
Roger Myers, the president and CEO of Presbyterian Villages of Michigan retirement communities, called for people to work together in support of the greater public good.
He said recent outages on Feb. 22 at a Westland care facility and on March 3 at a Detroit care facility in Brush Park were "horrible," affecting residents for three to four days.
"Westland has had 14 outages since 2020, and in 2023, there have already been four," Myers said. "What can our reasonable expectations be? We are not talking about the 1950s or the 1930s. It is essential that there be heat, light and communications, reliable and consistent service. We need to have much greater confidence in the system."
He said when people hear about an upcoming storm, they should be worried about driving, not losing their power.
Myers urged the commission to take steps to achieve greater system reliability and stronger regulatory oversight of utility responses to outages.
"Strengthen the communications between utilities and the consumers, have utilities provide portable generators for critically impacted customers, utility funded programs for installation of standby generators and heightened financial consequences for utilities when there are severe outages," he said.
Attendee Maddy Daniels said she wanted to make it clear that DTE was not the entity suffering, which was followed by applause.
"DTE is not the victim here," she said, "The people in this room are."
Daniels noted that 73 percent of DTE's profits go to their shareholders.
"DTE will survive," she said. "Are we going to if we don't have the things we need, like basic human resources to live? I am worried about the people here and the people who have less resources than me."