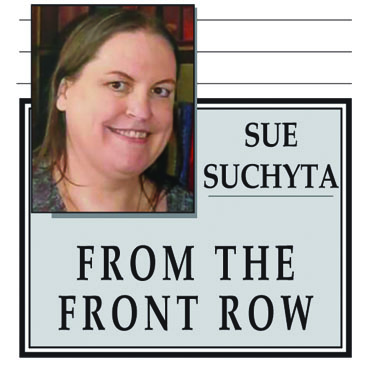 A triple theatrical treat tempts playgoers the last week of April on local stages, with Melvindale High School presenting the musical "You're a Good Man, Charlie Brown" April 28 to 30, Trenton High School performing the musical "Freaky Friday" April 27 to 29 and Henry Ford College offering the comedy "The Complete Works of Shakespeare (abridged)" April 28 and 29 on the main campus. 
MELVINDALE H.S. PRESENTS 'YOU'RE A GOOD MAN, CHARLIE BROWN'
Melvindale High School will take audiences on a musical journey about the joys and frustrations of childhood April 28 to 30 with its production of the musical "You're a Good Man, Charlie Brown."
 Director Nathan Vasquez said he has always been a big fan of the Peanuts characters.
"It has been fun to finally stage this show with the ideas I have had since I first listened to the cast recording," he said. "I have been blessed to have a talented group of students this year that have brought these characters and moments to life."
Vasquez said he also had to strike a balance between the theatrical and the simple world of the characters. 
"While it is tempting to add splashy sets and costumes, the joy of this musical comes from its simplicity," he said. "The honest performances from the actors along with the witty dialogue from Charles M. Schultz makes this show a winner all by itself."
Vasquez said "You're a Good Man, Charlie Brown" is a show for the entire family. 
"The show has such an amazing, universal appeal that everyone will find something to enjoy from our production," he said. 
Vasquez said he and producer Dominic Guerriero are pleased to celebrate Melvindale High School Drama Club's 30th anniversary this year, as well. 
Louie Diaz, who plays Snoopy, said he hopes the school's drama club will add many more years to its current 30-year run. 
"We worked hard on this production," he said. "It is important to support teenagers branching out of their comfort zones and performing in front of a group of people." 
Ash Chiello, who plays Linus, said it has been challenging to learn the character's vocabulary, as well as how to dance and hold props while maintaining a grip of the character's iconic blanket. 
Kathleen Jakey, as Sally, said her character's vocabulary is also challenging because Sally says things that one would expect from an older character. 
"Since Sally is so young, she has a sort of bluntness in almost everything she says, which makes her dialogue with other characters hilarious," she said. 
Bea Fredericks said she has worked hard to master Lucy's mannerisms and voice, and is looking forward to sharing the cast's hard work and funny scenes with the community. 
Regan Thomas, as Schroeder, said it has been fun to work out his character's emotional responses to different situations. 
"I love how interesting Schroeder is and how he thinks," he said. "It's fun to be a little more upset at some parts and use emotions that wouldn't be used with other characters." 
Also in the cast are Diego Rodriguez Moreno as Charlie Brown, Sierra Vega as Woodstock, Isidora Lucero as Pigpen, Onna Fredericks as Peppermint Patty, Peyton Mathes as Marcie, Alivia Gonzalez as Violet, Isanel More as Frieda, Nevaeh Faulknor as Patty, Julian Tomsha as Shermy and Sanaa Khan as Five. 
Performances at the high school, 18656 Prospect St., Melvindale, are at 7 p.m. April 28 and 29, with a 3 p.m. April 30 matinee. Tickets are $10 and are available at the door.
TRENTON H.S. PRESENTS THE MUSICAL 'FREAKY FRIDAY'
Trenton High School presents the musical "Freaky Friday" April 27 to 29 in the high school auditorium, 2601 Charlton Road, Trenton. 
Based on the Disney movie, the story follows a single mother and her teenage daughter, who are often at odds, who wake up to find themselves inhabiting each other's bodies. 
Director Cheyla Wagner said last spring the students did the teen version of "Chicago," and this year she wanted to select a show on the other end of the spectrum.
"'Freaky Friday' is a heartwarming mother-daughter tale that still makes me laugh and cry during rehearsals, even after seeing it every day for the past two months," she said. "These kids are so talented and tell this story so well. I hope audiences leave impressed and a little teary-eyed."
Student director Hannah Gilliand said she hopes attendees identify with the challenges everyone faces. 
"Even if we may not show it, spending a day in someone else's shoes may be a lot harder than you think," she said. 
Olivia Schotthoefer, who plays the teen daughter Ellie, said the show takes a beloved Disney movie and adds song and dance. 
She said that while it was easy to play a teen, embodying Katherine, the mother, was more of a challenge. 
"Once I understood I needed to adjust things, such as my posture, tone and attitude, it became so much more fun for me," she said. 
Ava Cheff, who plays Katherine, the mother, said it has been both challenging and fun to work with Schotthoefer to develop two distinct personalities. 
"We needed to make sure there was a big difference between mother and daughter, and that our portrayals of both were consistent," she said. "It's been so much fun getting to play such different characters within one musical." 
Cheff said at its heart, "Freaky Friday" is about a mother and daughter overcoming their differences and learning to appreciate what the other person brings into their lives. 
"Whether it be navigating complex family dynamics, surviving high school or balancing work and life, there is something in 'Freaky Friday' that everyone can relate to," she said. 
Zachary Haddad, who plays popular teen Adam, said that while the show is entertaining, it also combines light-hearted themes with deeper issues. 
"It dives into family, self-confidence and the complexities of day-to-day life," he said. "It's a show that should have people laughing the whole time and smiling as they leave."
Also in the cast are Anthony Anderson, Madalyn Bailey, Cameran Birch, Emma Cannon, Trent Chadwell, Avalon Francis, Grace Hibbard, Angelina Kardos, Chelsea Kings, Noah McCardell, Izabella Provenzano, Bella Rockov, Ava Tocco, Maria Urbina and Alex Zettlemoyer.
Show times are 7 p.m. April 27 to 29 in the school auditorium. Tickets are $11 for general admission, and $6 for students and seniors, and are available here and at the door.
HENRY FORD COLLEGE PRESENTS 'THE COMPLETE WORKS OF SHAKESPEARE (ABRIDGED)'
Henry Ford College presents the comedy "The Complete Works of Shakespeare (abridged)" April 28 and 29 in Adray Auditorium in the MacKenzie Fine Arts Center, 5101 Evergreen Road, Dearborn. 
HFC Theatre Director John Michael Sefel who is completing his first year at the college, said the show is a fast-paced comedy in which three actors attempt to perform all of Shakespeare's 37 plays and 154 sonnets in just 95 minutes, with "hysterically disastrous results."
"It's got Shakespeare, it's got sword fights, it's got shenanigans," he said. "Romeo, Juliet, Macbeth, Cleopatra – all the classic Shakespearean characters are there. 
"Whether people love Shakespeare or don't know Hamlet from a hamburger, this fast-paced show is meant to entertain!"
Sefel said the show checks off many boxes on his list of things he wants his students to learn.
"It demands that they stretch their talents, but does so in an accessible and funny way," he said. "It balances history with extremely contemporary humor, and is crowd-pleasing without being trite."
Sefel said the script encourages the actors to make the show their own by updating the jokes and encouraging them to use local and pop culture references. 
"It's a 'joke-per-second' kind of show that requires a lot of time and rehearsal," he said. "I hope it calms any fears people may have about Shakespeare. This play makes fun of his work, but it is also absolutely a love letter to one of the most influential English language writers in history."
Sefel has double-cast the three roles, and mixes them up so it's never the same show twice. 
Caitlin Castle of Brownstown Township and Sarah Sullivan of Taylor share the role of Player One; Loay El-Hennaoui of Dearborn Heights and Marceles Simmons of Redford Township share the role of Player Two; and Ali Seblini of Dearborn Heights and Drake McWilliams of River Rouge share the role of Player Three. 
Sullivan said the show has really pushed her as an actor. 
"In the beginning, I underestimated just how fast this show really is, so it has definitely been a challenge to keep up the pace, especially with aspects like costume-changing and prop-finding," she said. "I wish you could see just how chaotic it is behind the scenes." 
Sullivan also enjoys adding jokes and silly phrases to add to the dialogue. 
Seblini has enjoyed the collaboration with his fellow actors, technicians and the director. 
"It's been great to see everyone's unique perspectives and interpretations come together to create a cohesive and dynamic production," he said. "This play has offered me an opportunity to cultivate my skills not only as an actor, but as a learner and an adaptor." 
Seblini said being in the production has increased his appreciation for Shakespeare's works. 
"I think it's important to continue to explore and learn about Shakespeare's works, as they have a profound impact on the world of theatre and storytelling," he said. 
Seblini said he is looking forward to hearing audience feedback. 
"With a show as funny as this one, I would love to hear what everyone's favorite moments and jokes were," he said. "I would also like to hear the opinions of avid Shakespeare fans to know how well we did at making his work funny and entertaining for everyone." 
McWilliam said the show is simply a good time, with many laughs and goofy shenanigans. 
"It's been fun to play in, but also just as fun to watch," he said. "The more absurd the play, the more I think we have achieved its heart and purpose." 
Simmons said he enjoyed rehearsing the sword fights, and found playing different characters with quick costume changes the most challenging aspect. 
"There's a lot of stuff jam-packed into the show," he said. "Just come and see." 
The April 28 show features Sullivan, El-Hennaoui and Seblini; the April 29 matinee features Castle, El-Hennaoui and Seblini, and the April 29 evening performance features Sullivan, Simmons and McWilliams.
Show times are 7:30 p.m. April 28 and 29, with a 2 p.m. April 29 matinee. Tickets are $10 for general admission and $5 for seniors, student with identification, active military and HFC employees, and are available here and at the door.