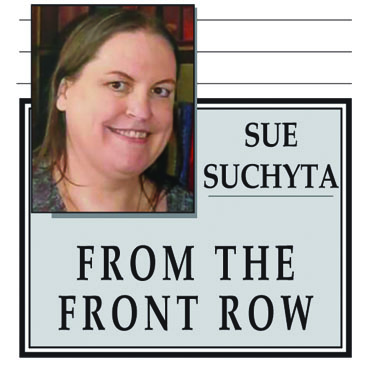 Whether you're looking for a light-hearted show or more thought-provoking fare, there are many choices on local stages next week as Crestwood High School presents "The SpongeBob Musical," the Players Guild of Dearborn offers "La Cage aux Folles," Wayne State University brings "Orlando" to the stage, and The Ringwald performs "The Inheritance."
CRESTWOOD HIGH SCHOOL PRESENTS 'THE SPONGEBOB MUSICAL'
"If nautical nonsense is something you wish" be sure to head over to Crestwood High School May 6 to 13 for "The SpongeBob Musical."
Director Cayla Kolbusz said she was ready to direct a fun and joyful show.
"It is silly, but it really does bring a smile to your face and makes you care about these characters," she said. "I also wanted to challenge my cast and crew."
Kolbusz said she hope audiences discover a fresh appreciation for SpongeBob. 
"I wasn't expecting to love this show as much as I do," she said. "The characters and story just make me smile at every rehearsal."
Damien Deluca, who plays SpongeBob, said that while it began as a kids' show, the musical will appeal to adults as well. 
"It definitely humanizes the characters a bit more," he said. "It brings so much life to this series and it's honestly wonderful."
Sharon Adjanohoun, who plays Sandy Cheeks, said the show has energizing music and captivating choreography. 
"I really hope that people will be buzzing about the 'I'm Not a Loser' tap dance because that's my absolute favorite number in the show," she said. 
Harry Krafchak, who plays Squidward, said the play has some notable differences from the familiar cartoon. 
"Obviously, we can't stretch someone's arm across the stage or have someone climb a volcano," he said. "We do make it as close to the cartoon as possible."
Ali Nachar, who plays Patrick Star, said the show is family-friendly. 
"It's great for kids," he said. "It is colorful and fun, and has a clear plot that leads the show." 
Others in the cast include Ali Fawaz as Eugene Crabs, Carl Littlejohn as Sheldon J. Plankton, Miera Nachar as Pearl Crabs, Lara Elhajj as Karen the Computer, Kelsey Genga as the Mayor of Bikini Bottom and Yanjie Zhu as Perch Perkins.
Showtimes are 7 p.m. May 6, 12 and 13 and 3 p.m. May 7 at the Crestwood High School auditorium, 1501 Beech Daly Road in Dearborn Heights.
General admission is $15 for adults and $13 for students with identification. VIP tickets, which include popcorn and a beverage, are $20 for adults and $18 for students. To order online, go to crestwoodtheatre.com.
THE PLAYERS GUILD OF DEARBORN PRESENTS 'LA CAGE AUX FOLLES'
Face life with "a little guts and lots of glitter" May 5 to 21 as the Players Guild of Dearborn brings the musical "La Cage aux Folles" to its stage.  
Those who have seen the 1996 comedy film "The Birdcage" are familiar with the plot: A gay couple who run a nightclub featuring drag queens agree to mask their true identity when their son needs to introduce his financee's politically conservative parents to a fictionalized version of the household. 
The show, which opened on Broadway in 1983, broke barriers by becoming the first musical focused on a gay couple. 
It won six Tony Awards, including Best Musical, Best Score and Best Book. In both 2005 and 2010, it won a Tony for Best Revival of a Musical.
Director Jerry Haines of Berkley, who has seen "La Cage" on Broadway, as well as the films, said the story of living an authentic life resonates with him. 
"It's sad to see that as much as things have changed, they've remained the same," he said. "It's nice to see that the entertainment industry has grown to be more inclusive."
Haines said RuPaul has elevated drag to an art form globally. 
"It's a shame that closed-minded people want to criminalize LGBTQ+ individuals' freedom of expression," he said. 
Haines said that audiences will enjoy the humor and warmth of the show. 
"More importantly, I hope audiences will take away that people are people," he said. "They may be different than you, and you may not agree with how they live their life, but that is not your judgement to make.
"What we all must do is respect every human being for who they are and celebrate them. We are who we are and the best of times is now." 
Russell Boyle plays Georges, whose son is asking him to go back in the closet to pass muster with his financee's conservative family.
"The musical itself is chock full of uproarious comedy, but at its core it is a tale about heart, soul and the painstaking journey to be true to oneself and those you love the most, no matter the cost," he said. 
Sebastian Adams, who plays Chantal, a Cagelle, agreed. 
"I think this show has something everyone can related to," they said. "We all want to be seen, loved and understood, and this musical portrays that no matter who you are, you belong and are valid." 
Boyle said 'La Cage' is especially timely with the current climate of banning drag queens and the trans community in some states. 
"The LGBTQ+ community has celebrated a lot of success over the last couple decades, but people forget that visibility comes with a price, and the backlash has been terrifying," he said. "There are so many politicians misusing religion, like the Dindons in 'La Cage,' to push an anti-gay agenda of hate masked as the 'word of God.'"
David Culliton, who plays Phaedra, a Cagelle, said while 'La Cage' is historically a bedrock show for LGBTQ+ representation, it is a story that feels cutting edge in the current political climate. 
"Queer people are facing backlash quite akin to what's presented in 'La Cage,'" he said. "In a world where 'drag queen story hour' is a divisive political talking point, a story where a drag queen takes center stage and says, 'I am what I am' suddenly feels as important to tell in 2023 as it was in 1983."
Sam Ramirez, who plays Albin/Zaza, decried the politicians who attack drag shows from a position of hate and prejudice. 
"Our show is about unconditional love, family, support and acceptance," he said. "We are human beings that breathe, feel, cry and love just the same as anyone else."
Jair Alexander, who plays Mercedes, said shows like "La Cage" shares stories that need to be heard by those who are struggling to accept and love themselves and others. 
"We need shows like 'La Cage,' 'Kinky Boots' and 'Rent' to represent and celebrate our colorful community," he said. "We are about love and acceptance."
The cast also includes: Tarrell Pearson as Jean-Michel, John LoPorto as Jacob, Madison Ganzak as Anne, Tony Primeau as Edouard Dindon and Tabarro the Fisherman, and Rebecca Borsodi as Marie Dindon. 
Also, Juliette Delabbio-Abbott as Jacqueline, Tim Carney as Renaud, Jackie Abercrombie as Madam Renaud, Matthew Rindfleisch as Francis, Rob Martin  as Etienne and Becky Dodd as Sherry/Collette.
Also playing Cagelles are: Josh Beurer as Hanna, Casey Coulter as Bitelle, Odera Office as Angelique, Mo Thomas as Babette, Lauren Danke as Monique, Lily Zang as Dermah and  Lark Haunert as Nicole. 
Paul Abbott is the music director, with Valerie Mould as the choreographer. 
Showtimes are 8 p.m. May 5, 6, 12, 13, 19 and 20 and 2:30 p.m. May 7, 14 and 21 at its theater, 21730 Madison St. in Dearborn. 
 Tickets are $22, and are available by calling 313-561-TKTS or online at playersguildofdearborn.org. The box office opens one hour before each performance. 
WAYNE STATE UNIVERSITY PRESENTS 'ORLANDO'
Wayne State University presents Sara Ruhl's "Orlando," based on the Virginia Woolf novel, May 5 to 14 at the Hilberry Gateway Theater. 
The story follows a young nobleman who becomes the lover of Queen Elizabeth I, but when the fascination with the royal court fades, they begin to travel, shifting gender and preferences, with fascinating results, through five centuries.
Director Sherrine Azab said Ruhl's reworking of the Woolf classic allows one to explore feminism and gender constructs across multiple generations.
"Issues of gender are very much in the news and on people's minds, and this play is at once playful and poignant around a topic that can be very divisive," she said. "It is a play that skips across time, which underscores our ongoing artistic mission to make art that examines the past to interrogate the present in order to move towards a more just and celebratory future."
Azab said the show moves quickly across a complex theatrical terrain, from one big event to another, and tells the stories that need to be told about women and queer history. 
"We hope audiences will connect issues in this play with what is happening in our present, and ask themselves why others want to control how people present, love, express themselves or just exist," she said. "We hope audience members will think about what they can do to change this in the future." 
Katy Tye, who plays Orlando, said it is challenging to play a character over multiple centuries who is male in the first act and female in the second act. 
"Orlando just wants to be themself, which happens to have elements of both feminine and masculine traits," she said. "I do not identify as trans, but there are sides of me that are far more feminine than masculine and vice versa, and those small windows into different sides of their identity can help bridge a gap of misunderstanding that is currently happening in America."
Tye said trans people have always existed. 
"Seeing me, a 30-year-old woman, dressed as a young man is no different than a man performing in drag, a performance tradition that dates back to the Elizabethan age with Shakespeare, in which 'Orlando' begins," she said. 
Tommy Favorite, who plays the archduke and archduchess, said the story should resonate with all audiences, no matter how one identifies. 
"'Orlando' has laughter, heartbreak and a sense of reverence for stories, but I think that more than anything, it is about love," he said. "I hope our audiences leave with a little more love in their hearts for themselves and for the world full of people around them." 
Jessica Annunziata, who plays Marmaduke Shelmerdine and Favilla, said all of the cast members play characters of the opposite gender at some point in the show. 
"It's crazy to think our show about identity and love would be illegal in certain places," she said. "Expression is not a crime, and vilifying it serves no one." 
Marcela Garzaro, who plays Sasha and is in the chorus, said the show's themes of gender and sexuality make it especially compelling given the current political climate. 
"This show has a beautiful message of fluidity and love, and it can come in many different forms," she said. "At the end of the day, it's all about love."
Showtimes are 8 p.m. May 5, 6, 12 and 13; 7 p.m. May 11, 2 p.m. May 6, 10 and 13; and 3 p.m. May 14 at the Hilberry Gateway Studio Theater, 4175 Cass Ave. in Detroit. 
Tickets are $24 for general admission, $20 for seniors, WSU alumni, faculty and staff, and $17 for students. To order online, go to theatreanddance.wayne.edu. 
THE RINGWALD PRESENTS MICHIGAN PREMIERE OF 'THE INHERITANCE'
The Ringwald Theatre presents the Michigan premiere of the Tony Award-winning two-part play "The Inheritance" May 5 to June 11 at its theater inside Affirmations, 290 W. Nine Mile Road in Ferndale. 
Written by Matthew Lopez and set decades after the height of the AIDS epidemic, "The Inheritance" follows three generations of gay men living in New York City as they seek to find their place in life amid a stormy and evolving landscape. 
Among its many accolades, the play was nominated for 11 Tony Awards in 2020, winning for Best Play, Best Lead Actor, Best Featured Actress and Best Direction. 
The Ringwald cast, directed by Joe Bailey, includes Miles Bond, Stebert Davenport, Phoenix Eldridge, Nic Folson, Linda Rabin Hammell, Jay Kaplan, Kevin T. Keller, Marck Kiselevach, Dan Morrison, Richard Payton, Brandy Joe Plambeck, Harry Totten and Matthew Woods. 
Showtimes are: For Part 1 only: 8 p.m. May 5, 6, 8, 12, 13, 26 and June 2 and 9, and 3 p.m. May 7 and 14; for Part 2 only: 8 p.m. May 19, 20, 22 and 27 and June 3 and 10, and 3 p.m. May 21; and for both shows on the same day, Part 1 will run at 2 p.m., with Part 2 at 7 p.m., on May 28 and June 4 and 11, at the theater. 
For the Friday, Saturday and Sunday shows, tickets are $25 plus a $2.38 processing fee, while Monday night shows are $15 plus a $1.88 processing fee. 
A bundled price for Parts 1 and 2 is $45 plus a $4.21 processing fee. The Ringwald is a cashless venue, and takes only credit and debit cards. 
Please note that the show contains adult situations, language and nudity.