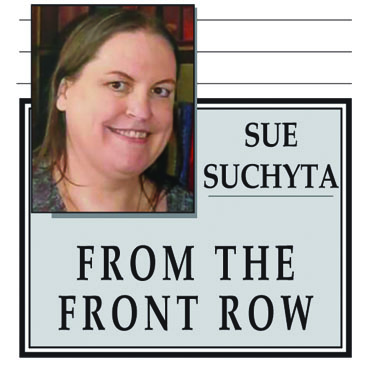 From light-hearted to thought-provoking, two Trenton theaters open coming-of-age stories in May, as the Downriver Youth Performing Arts Center presents "The Big One Oh! Jr.," with lyrics by Dean Pitchford, music by Doug Besterman and book by Timothy Allen McDonald, and the Open Book Theatre Company presents Paula Vogel's "How I Learned to Drive." 
DYPAC PRESENTS 'THE BIG ONE OH! JR.'
The Downriver Youth Performing Arts Center presents "The Big One Oh! Jr.," a birthday party for an important milestone which takes unexpected twists and turns. 
When Charley's 10th birthday is approaching, he decides he won't let his lack of human friends prevent him from having a party, which he plans with his imaginary monster friends in mind. However, plans do not always come off as intended. 
Nathan Vasquez directed and choreographed the show, with Cindy Robertson producing, Taylor Yeager as vocal director, Samantha Plunkett as dance assistant and Parker Watson and Ava Arnold as student assistants. 
Vasquez said he is excited to bring a show to the stage that has not been done on Broadway or as a movie. 
"It's solely based on a book by Dean Pitchford, and as I began to read the script and listen to the score, I fell in love with the characters and situations," he said. "I'm proud of what we have come up with and can't wait for people to see it happen live on stage." 
Vasquez said he was worried that the students wouldn't be interested in doing a show based on an unfamiliar story, but was pleased to see them embrace the show and enthusiastically bring their characters to life. 
"It's a wacky, bizarre and hilarious musical that has so much heart," he said. 'Anyone who comes to see it will enjoy this story and what it has to say about acceptance despite being different, an important message."
Delaney Ryan, who plays the mom, said the show is both silly and exciting, while Rylie Evans, who plays Boing Boing, said it is fun and entertaining. 
Ciana Litten, who plays Lorena, agreed that the show is funny, and added that it is family-friendly.
She said she likes playing Lorena, which allows her to be "sassy, rolling my eyes and rude."
Lexi Pitock also has fun playing her character, Jennifer. 
"This role is a bit different from what I am used to," she said. "My character is overly-excited most of the time. I love how she is so happy, and I love saying lines like that."
Also in the cast are Evan Langlet as Charley Maplewood, Karter Adams as the dad, Ben Raftery as the Zombie King monster, Karsyn Smith as the Swampy monster, Raven Harten as the Alien monster and Lolamoon HaleDelcamp as Garry Quarky. 
Playing students and party performers are Sofia Castrillon-Ibara as Donna Pointer, Kaylee Johnson as Dina, Ava Cason as Dana, Trevor Robinson as Darryl, Brady Pippin as Cougar and Nicholas Bond as Scottie. 
Others in the ensemble, playing multiple roles, are: Elena Boase, Janessa Brown, Mackenzie Carter, Andie Evans, Sofia Ferguson, Marie Gill, Pearl HaleDelcamp, Samantha Heady, Autumn Hernandez, Halee Kephart, Ellie Knapp, Charley Lesko, Wade Ryan, Avery Scrivner, Lena Wander, Anna Whalen and Kate Willmuth.
Show times at 7 p.m. May 19 and 20 and 2 p.m. May 21 at the Trenton Village Theater, 2447 W. Jefferson Avenue in Trenton. 
Preferred seating is $16, with general admission $14 for adults and $12 for seniors, students and children. To order, go to dypac.com.     
OBTC PRESENTS 'HOW I LEARNED TO DRIVE'
The Open Book Theatre Company presents Paula Vogel's Pulitzer's Prize-winning drama, "How I Learned to Drive," which tells, in flashbacks, of the interactions of a young girl with her aunt's husband, who sexually abused her during her formative years, through a story that is both humorous and heart-wrenching. 
The play uses humor, poignancy and a narrative style to tell the story of Lil' Bit from age 11 to 18 as she comes of age in the 1960s in Maryland. 
Vogel has said that her message is that abuse can be survived. 
It has been established that most predators are people children knew, trusted and were considered good people. 
Director Adriane Galea said the play reveals the hope and beauty in darkness and bears witness to the healing power of being heard. 
"'How I Learned to Drive' journeys through various traumas across generations and the path one woman takes to start to heal it, starting with the choice to be heard," she said. 
Galea said healing is complicated and non-linear.
"My goal was to tell the story in a way that was neutral," she said. "The themes are so charged and the audience will almost inevitably come in having preformed opinions about what happens." 
Galea said she has wanted to direct the show for more than a decade, but opportunities have fallen through in the past.  
"I have studied the characters for years, and in thinking about how I'd stage it, I've grown up alongside Lil' Bit," she said. "The 'Me, Too,' movement happened, mental health awareness has progressed and the lines of consent have been drawn much more clearly, so part of my challenge was separating 20-something Adriane's and 30-something Adriane's understanding of it." 
Galea said the general family dynamic and dysfunction of the show is relatable.
"This is actually a really funny show," she said. "It's not a comedy by any stretch, but it finds perfect moments to offer up some big laughs."
Krista Schafer, who plays Lil' Bit, said the show is "flirty, fun, nervous and exploratory."
"It's a coming-of-age story," she said. "Most of it doesn't look like abuse until you really examine the power dynamics at play." 
Schafer said it is challenging to find the best way to tell people about the show's subject matter.
"While it is a play about childhood sexual abuse, it isn't violent, it isn't harsh," she said. "It is written so beautifully, with humor and heart, and it draws you into the story and the characters.
"It's brilliantly written as a memory piece, so that an adult woman is playing Lil' Bit. You never have to watch an adult man with an underaged girl."
Schafer said that while everyone should see this play, she understands why some people will not want to see it.
"We unwittingly feed into and even mask the issues of sexual abuse through over-sexualization of youth, blaming the victims and turning away from our suspicions," she said. "In telling our stories, confronting our pasts and forgiving our younger selves for doing the best we could to survive, we can grow, love and find joy." 
Schafer said that as Lil' Bit tells her secrets, she takes control of the story and is able to steer herself in a new direction. 
"The play takes a look at childhood sexual abuse and how that trauma can inform our adulthood," she said. "It is, unfortunately, a timeless issue, but it's also about societal issues, our tendencies to blame the victims and to blame ourselves, but it doesn't let anyone off the hook. Forgiveness doesn't mean acceptance of the wrongs." 
Phil Hughes, who plays Uncle Peck, said the show will challenge audiences.
"The things the play depicts are difficult," he said. "No one character is written as the villain, even though some things happen that are truly villainous." 
Hughes said if audiences can accept that forgiveness and healing come from unexpected places, they will gain more satisfaction from the story. 
"When the play was first produced in 1997, lives were not ruled by social media, and the topics this play covered were not widely discussed in in public forums," he said. "Today we are inundated with stories that are perhaps similar to this, but to share a journey of becoming self-aware and overcoming and forgiving without absolute condemnation is a perspective that often seems lost today." 
V. Martin, as part of the Greek chorus, said "How I Learned to Drive" is timely because of the struggles women are currently facing in society.
"Lots of rights, freedoms and control are being stripped away, and this mirrors a lot of that," they said. 
Diana Turner, also part of the Greek chorus, said it is important to show how frequently the sexualization of children is integrated into everyday life.
"This play doesn't back down from that uncomfortable truth," she said. "As a mom myself, I worry that the choices I make today will come back to haunt me."
The show runs 8 p.m. May 19, 20, 26 and 27 and June 2, 3, 9, 10, 15 to 17, and 2 p.m. May 21 and 28 and June 4, 11 and 18 at the theater, 1621 West Road in Trenton. 
Opening night tickets are $35, with a $30 general admission to other performances and $25 senior tickets and $15 student tickets. 
Masks are required May 19 to 28, while June 2 to June 18 they are optional. 
For tickets or more information, call 734-288-7753 or go to openbooktc.com.