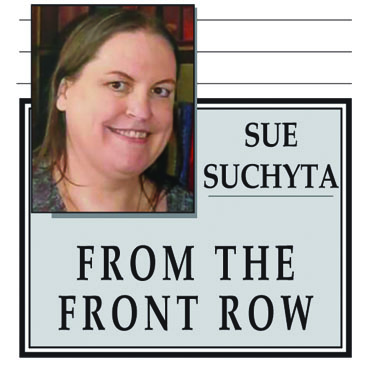 Get set for a double dose of the Bard, as a group of students and alumni from the Melvindale-Northern Allen Park Public Schools presents a comic romp with "A Midsummer Night's Dream" and the Motor City Bard Bums, based in Livonia, present "Romeo and Juliet meet the Hatfields and the McCoys."
MELVINDALE'S 'MIDSUMMER' IS A SHORTENED, COMIC ROMP
A group of students and alumni from Melvindale-Northern Allen Park Public Schools will present a 90-minute version of Shakespeare's comedy "A Midsummer Night's Dream," with emphasis on physical comedy and with a focus on making the language understandable for modern audiences.
Alumna and director Brook Little said she selected "A Midsummer Night's Dream" for the summer show because she wanted to give the actors a fun script that would allow them to take artistic liberties.
"This show is so ridiculous and wild, and we have definitely taken that to the extreme here, heightening the comedy and really leaning into the corniness and irony," she said.
Little said she has made some adaptations to the script to provide some modern language and has edited the original script to shorten the production.
"I have cut out the long sidebars, so Shakespeare purists beware," she said. "This is not your run-of-the-mill Shakespeare show."
Little said people will not be yawning during this production.
"It is goofy, loud, over-the-top, quirky and modernized," she said. "Running about 90 minutes, this play feels more like a modern, whimsical rom-com than a Shakespearean classic."
Little said she is pleased to have alumni acting as mentors to the students both onstage and behind the scenes.
"It gives our alumni a chance to come back and be involved with the program they loved so much in high school and to stay involved in the community," she said.
Alumnus Ryan Long, who plays Oberon and who serves as the technical director, said he also enjoys the sense of community that the alumni and students have built.
"The language can seem frightening, but it's relatively easy to understand," he said. "It's not a period piece, and you will see actors in modern clothing."
Student Louie Diaz, who plays Bottom, said he hopes their performance provides audiences with a new perspective of Shakespeare.
"Shakespearean plays are like no other piece of literature out there, and for it to be performed by this generation with a new and fun look is absolutely one of the greatest things about theatre," he said.
Student Alivia Gonzalez, who plays Hermia, said she hopes audiences realize that Shakespearean plays don't have to be serious or intimidating.
"I hope audiences are impressed by the cast's courage to put ourselves out there and to be a little ridiculous at times," she said. "I want them to look forward to more Shakespearean productions."
Student and stage manager Bethany Decaire said she hopes audiences enjoy the show's comedic aspects.
"Once you understand what they're saying, these shows are hilarious and entertaining," she said. "I hope this show will push more people to see Shakespearean productions in the future."
Student Regan Thomas, who plays Demetrius, said the Bard's written words are beautiful.
"Shakespeare is so good at writing and using figurative language," he said. "I encourage more people to see Shakespeare's shows."
Others students in the cast include Justin Stewart as Theseus, the Duke of Athens; Onna Fredericks as Hippolyta, the queen of the Amazons; Austin Scamp as Phil (Philostrate); Julian Tomsha as Egeus; Diego Rodriguez-Moreno as Lysander; Isanel More as Helena; Sierra Vega as Quince; Peyton Mathes as Puck; Alexis Lemon as Mustardseed; Reece Kerr as Peapod; and Jamison Kerr as Cobweb.
Other alumni in the cast include Jason Hamovitz as Flute, Aly Lomas as Snout and Lexi De Forest as Snug.
Alumna Diana Kasperek is the assistant director and student Aiden Poirer is the assistant stage manager.
Performances are at 7 p.m. July 20 to 22 and 2 p.m. July 23 at air-conditioned Allendale Elementary School, 3201 Oakwood Blvd. in Melvindale. Tickets are $10 and are available at the door, with payment in cash or through the CashApp or Venmo.
THE MOTOR CITY BARD BUMS PRESENT 'ROMEO AND JULIET MEET THE HATFIELDS AND THE McCOYS'
The Motor City Bard Bums are celebrating 18 years of presenting Shakespearean plays for families to enjoy with "Romeo and Juliet meet the Hatfields and the McCoys" in the air-conditioned Motor City Theater, 27555 Grantland in Livonia.
The show is sponsored by the Livonia Community Foundation and private donors.
Nancy Florkowski, who adapted the Shakespearean play, said this is the third time that she has directed this version of the story.
"I decided to do something different this year, casting a mix of adult and youth performers," she said. "Our philosophy at the Motor City Youth Theater is that participation in a rehearsed production is a learning experience that could never be duplicated by drama games and activities alone. Also, children learn Shakespearean English almost as if studying a foreign language."
Florkowski said it is a pleasure to work with children who are not apprehensive like adults might be when it comes to learning Shakespeare.
"They are like sponges, soaking up any direction, language and information offered to them by their director," she said. "It has always been my feeling that children will take a challenge and run with it."
Charlotte Teslak, who plays Lady Capulet and Maw McCoy, said she was encouraged to audition with her daughter, and has learned that one is never too old to try something new.
"This show has something for everyone – serious drama mixed with a good bit of fun and humor," she said. "Nancy has created something totally unique here and I can't wait for people to experience it."
Charlotte Teslak said loves the way the children and adults work together on the show.
"I like to imagine what Shakespeare would think it he were in the audience," she said. "I personally think he would love it."
Her daughter, Anna Teslak, who plays Benvolio, Roseanna McCoy and Selkirk McCoy, said she loves acting, and hopes audiences will recognize that the children in the cast are just as capable as the adults.
"I enjoy rehearsing because I can have fun interactions with friends and because channeling a new character is a refreshing distraction from the natural stress of everyday life," she said.
Anna Teslak said she enjoys audience feedback after a successful performance.
"I want to hear how people enjoyed what we did, like applause at the end of the show or repeating their favorite quotes," she said.
Adult actor Michael Micheletti of Dearborn Heights plays Friar Laurence, Peter, Mercutio, Prince Escalus and Randall McCoy.
He said he's always wanted to play the part of Mercutio, who is a unique character.
Micheletti said the show is a fun twist on "Romeo and Juliet," and draws comparisons with the Hatfields and McCoys.
"There are serious moments, fun moments and happy moments," he said. "I love seeing the dominos fall into place."
Micheletti said he has a lot of quick changes, and the play moves at a quick pace.
"I hope audiences are laughing and having a good time," he said. "There will be a lot of fun moments to enjoy, and you get to see two sets of feuding families."
Others in the cast include Edda Denton as Romeo; Alice Schooner as Juliet; Sara Whitaker as Lord Capulet and Floyd Hatfield; Alex Lux as the nurse, Lady Montague, Bill Staton and the apothecary; Forest Hudson as Lord Montague, a citizen of the watch and Preacher Anse; and Will Robinson as Paris, Johnse Hatfield, John Scott, Bad Ellison Hatfield and Friar John.
Also in the cast are Matthew Malamis as Tybalt, Sam and Tolbert McCoy; Montellis Whitt as Balthazar, the hog trial judge and Crazy Jim Hatfield; Edan Charamba as Sampson, the jury spokesperson, a musician and Billy; Lili Rottet as Gregory, a juror, a musician, Alifair McCoy and Trinvila McCoy; Emma Vanmoorleghem as Marco, a juror, a servant, a musician, Fanny McCoy and a page; Piper Krieg as Abram, a juror, Rosaline, Adelaid McCoy, a page and a servant; and Delilah Edmonds as Polo, a juror, a musician, Annabelle and Sammy.
Charlotte Teslak plays the autoharp during the show, with Alex Lux as the vocal lead.
Tickets are $10, with a $5 rebate for attendees who come in costume. Tickets are available at the door, at Eventbrite.com and at Broadwayworld.com.