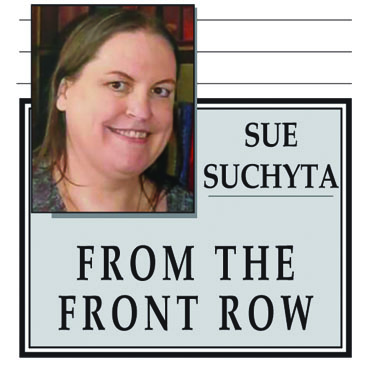 Set in the hot summer heat of Washington Heights in Upper Manhattan, the Tony Award-winning musical "In the Heights" offers a glimpse into the colorful and hopeful lives of the people in an immigrant enclave in New York City. 
The Dearborn Youth Theatre production, directed by Rashid Baydoun, with musical direction by Vanessa El-Zein, introduces multi-generational families and their respective hopes and dreams. It also explores the sense of community while providing a vibrant celebration of the culture. 
The music is a part of the journey, and includes salsa, merengue, hip-hop and soul. 
Baydoun said he is committed to telling stories that resonate with the community and celebrate our shared humanity. 
"'In the Heights' is such a story, one that champions diversity and showcases the beauty of our differences," he said. "It was essential for me to direct this show, as I believe in the power of theatre to shine a light on narratives that may often go unnoticed, and this musical is a perfect vehicle for that."
Baydoun said his biggest challenge was authentically representing the vibrant cultures and experiences portrayed in the musical.
"We wanted to respect and do justice to these narratives, which meant a great deal of research and attention to detail in our staging, choreography and characterization," he said. 
Baydoun said he has enjoyed watching the young actors grow and evolve during the rehearsal process. 
"It's inspiring to see them engage with material that carries so much emotional weight and cultural significance," he said. "Their passion, energy and commitment to their roles have been truly awe-inspiring." 
Baydoun said he hopes the vibrant music and the energetic company effectively deliver the show's themes of unity, community and the pursuit of dreams. 
"More than anything, I want them to appreciate the significance of amplifying diverse voices in the arts and how that contributes to a richer, more inclusive cultural landscape," he said. "It's a show that will leave you uplifted, inspired and with a renewed appreciation for the power of community and culture." 
Baydoun said the musical celebrates diversity and dreams with a vibrant blend of music, dance and storytelling as performed by its talented young cast. 
"Come immerse yourself in this unique theatrical experience," he said. "Our team's dedication and passion for what we do is what I believe sets our productions apart and makes the Dearborn Youth Theatre such a special place."
Baydoun said another important part of the DYT is the transformative power of theatre on young lives. 
"We see our work as an opportunity to inspire the next generation, helping them find their voice and express their creativity," he said. 
Among the cast members honing their craft is Carl Littlejohn, who plays Usnavi de la Vega, the show's narrator and one of the leads, who said the meaningful messages conveyed through the show's songs, in combination with the cast's strong vocals, packs a powerful emotional punch. 
"The cast drove me to tears onstage, and I will never forget that," he said. "I have begun to deeply relate to the character's thoughts and experiences, levying them against my own and realizing how many of them we share." 
Usnavi's love interest, Vanessa, played by Lydia Smith, works in a salon while dreaming of escaping the barrio and her alcoholic mother. 
Smith said she discovered more depth to her character as the rehearsals progressed.
"When we first started rehearsals, I thought Vanessa was flirty and did nothing but complain," she said. "Now that I know more about her, I know that she's really busy and is always working hard to get her goals." 
Nina Rosario, played by Aaliyah Flint, is another character struggling to meet her goals. She had won a scholarship to Stanford University, but working two jobs her freshman year was too much for her, and she lost her scholarship after her first year.  
Flint said the role has challenged her vocally and as an actress. 
"I have grown exponentially during these rehearsals," she said. "When I initially read the script, I thought Nina was a people pleaser who couldn't stick up for herself."
Flint said as her character faces cultural pressure to better herself and to achieve more than her parents were able to do, she finds her strength.
"Nina is the embodiment of the American dream for her parents, and she feels that she has to do everything she can to live up to that dream while still retaining her roots," she said. 
Adam El-Zein, who plays Benny, Nina's love interest, said that on the surface, Benny is just a confident guy trying to make it in the world, but he learned that the bravado is a front for the character's deeper emotions. 
"I started looking into his relationships with other characters and how they affect Benny," he said. "With Nina, he looks up to her, and he wants big things like her." 
Sara Barakat plays Abuela Claudia, who raised Usnavi and is a loving grandmother to the residents of the barrio. 
Barakat said Abuela, a Cuban immigrant, struggled to be treated like an equal citizen. 
"Talking to my mother about how I inherited my dreams from her, I related to (Abuela) in ways I didn't realize until I put myself in her shoes," she said. "She is the light of the barrio and everyone is her family."
Ali Fawaz, who plays Kevin Rosario, Nina's father, who owns a taxi service, said he understood his character more by comparing Kevin's experiences to that of immigrants in his own family. 
"At first I thought Kevin was just a jerk, but as I studied him more, I realized that he is just an immigrant putting family first," he said. "He does what he needs to do, even if that means he has to be the bad guy." 
Mohammed Manasir, who plays Graffiti Pete, who is seen as a vandal but who is actually an amazing artist, said rehearsals for "In the Heights" have been transformative. 
"Graffiti Pete is more than meets the eye," he said. "Initially dismissed as a low-life graffiti artist, his artistry serves as a testament to his role as a cultural guardian, preserving the stories of the barrio for future generations." 
Manasir said Graffiti Pete's role is to carry on the story of the barrio through his art. 
"I carried on Usnavi's message of resilience and perseverance, symbolizing the enduring spirit of the barrio," he said. "This infused my portrayal with a renewed sense of purpose as I became the visual representation of our barrio's stories, using art to immortalize our struggles, triumphs and collective strength." 
Other members of the cast include Maria Saad as Piragua Gal, Sofia Santana as Camilia Rosario, Shahad Mashi as Daniela, Fay Bazzi as Carla and Ayah Barakat as Sonny.
The ensemble includes Logan Armstead, Amenah Barakat, Joshua Dauzy, Yusra Galab, Ali Elhajj-Hussein, Nevaeh Harris, Matt Hermen, Laila Jumaa, Seneen Khalaf, Sophia Lamb, Mawada Mubarak, Natalie Paluchowski, Isabella Portillo, Marie Spadafore and Haya Tannira. 
Featured singers include Lily Balino, Jenelle Darwich, Mary Anne Hubbard, Mara Janke, Neveen Khatib, Charlotte Monroe, Annie Pasque and Libby Turner. 
Performances are 2 p.m. July 29 and 30, and 7 p.m. July 29 at the Ford Community & Performing Arts Center, 15801 Michigan Ave. in Dearborn.  
Tickets are $22 and are available at the door and online at dearborntheater.com.